As part of the expansion and modernisation of the Trumpf company premises in Ditzingen near Stuttgart, a new staff restaurant was built according to the plans of the architects Barkow Leibinger from Berlin. Werner Sobek was commissioned with the structural engineering and facade engineering for this project.
In addition to its transparency and lightness, the new building is characterised above all by its architecturally and structurally very demanding, geometrically very complex roof structure.
Transparent Facade, Wooden Honeycomb Roof Structure
The construction of the roof structure required the highest precision in planning and execution. In addition, careful observation of the deformation behaviour of the supporting structure was required throughout the entire assembly and construction process. The primary structure of the building consists of steel girders of up to 42 m in length, which rest on individually arranged steel columns. The different inclinations of the steel columns ensure the stiffening against horizontal loads.
The steel girders have cantilever lengths of up to 11.70 m and consist of welded rectangular hollow sections of various dimensions. While the width remains constant at 300 mm, the height adapts to the course of the forces and the architectural requirements: it varies between 600 mm and 1,200 mm. Individual girders were designed with a height of 1,500 mm to emphasise and differentiate between the primary and secondary supporting structure.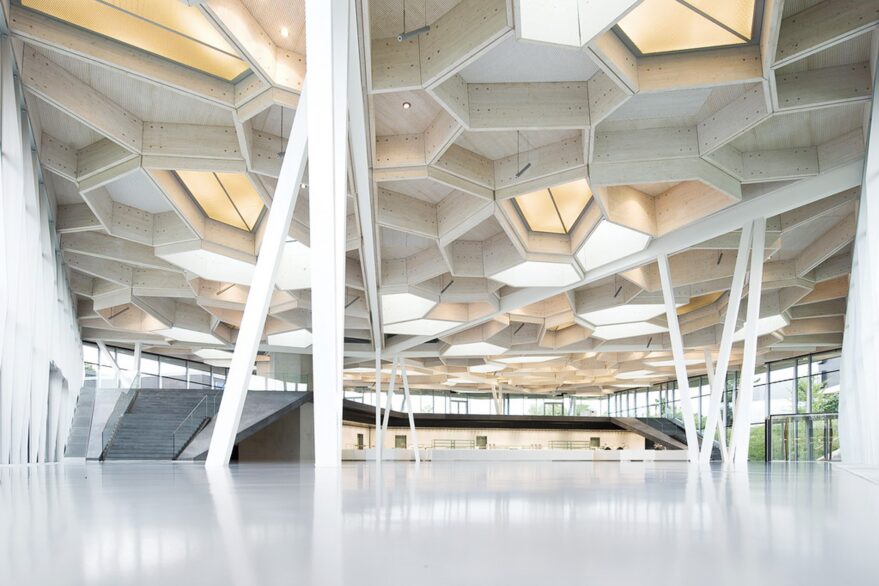 The primary structure is supported on a total of nine groups of columns. Their positioning was closely coordinated with the architectural boundary conditions. At the same time, careful attention was paid to an economical arrangement in terms of the resulting steel consumption.
Complex Planning Including Primary and Secondary Supporting Structure
The secondary structure consists of wooden girders of different lengths and heights that span between the steel girders of the primary structure. The geometry of the honeycombs formed from the wooden girders appears irregular in plan, but actually consists of only eight different types of honeycomb, which were repeatedly strung together in groups. The wooden honeycombs were assembled field by field. For cost reasons, a surface scaffold was not used. Instead, individual assembly supports were arranged under selected nodes. The subsequent castellated beams were then assembled as temporary cantilevers.
Pentagonal Building, Convertible into Auditorium
The pentagonal building of the staff restaurant measures 40 x 70 m in plan. It offers almost 700 seats on approx. 5,400 m², the maximum height in the restaurant area is 11 m. The interior can be converted into an auditorium if required. If required, the interior can be converted into an auditorium for events with up to 800 participants by means of alternative seating.
The Trumpf company is the world's leading manufacturer of machines for laser cutting and laser welding.
Architecture
Barkow Leibinger, Berlin/Germany
Planning time
2005 − 2006
Construction time
2006 − 2008
Services by Werner Sobek
Structural engineering (WP 1 − 6 acc. to § 64 HOAI)
Facade engineering (WP 1 − 8 acc. to UBF)
GFA
5,400 m²
Client
Trumpf, Ditzingen/Germany
Photography
David Franck, Ostfildern/Germany
Awards
DAM Preis für Architektur in Deutschland 2009
Hugo Häring Auszeichnung 2011
Hugo Häring Landespreis 2012
Nike 2013 BDA Architekturpreis