S21 – Suburban Railway Bridge
The Stuttgart 21 railway project requires a large number of structural changes in the state capital Stuttgart. These include the construction of a new eight-track through station. This new underground station consists of an approx. 447 m long and 80 m wide hall. The floor slab of the new station hall crosses an existing S-Bahn tunnel.
Floor Slab Bridges Existing S-Bahn Tunnel
The floor slab in this area will be designed as a prestressed bridge construction with a span of about 30 m. This will prevent any load on the existing tunnel construction. This prevents the existing tunnel structure from being loaded by the new platform hall. The bridge structure itself is founded on bored pile walls at the side of the S-Bahn tunnel. At each end of the bridge structure there is a maintenance corridor with adjoining technical rooms.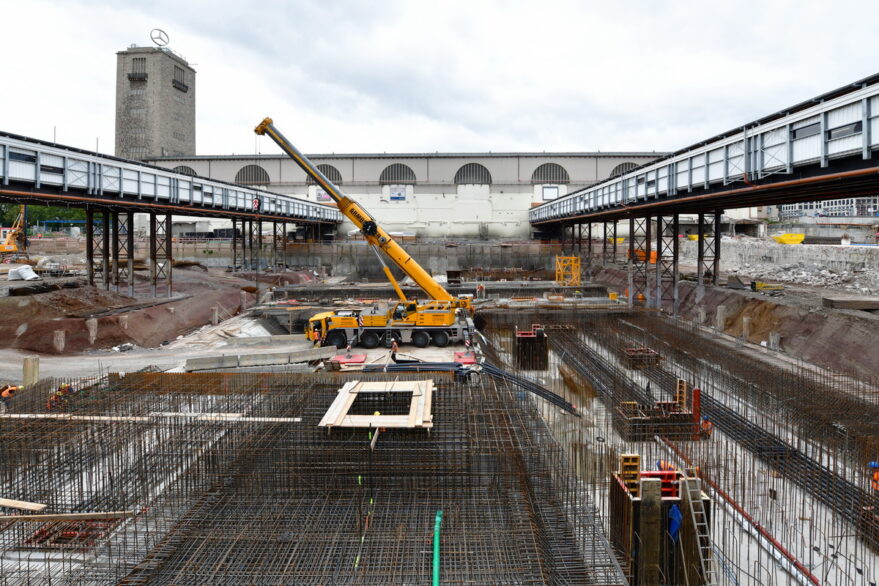 Additional Loads from Chalice Supports – Bridge Prestressed
Another complicating factor for the planners was that the bridge had to have four large openings for stairways leading down to the S-Bahn tunnel. In addition, there are two chalice supports on the bridge supporting structure – the bridge structure must therefore transfer additional loads from the shell roof. Due to the high load from the goblet supports with a magnitude of 60 MN each, the bridge was manufactured with internal prestressing without bonding.
Permanent Monitoring by Monitoring System
Due to the spatial conditions, parts of the structure are only partially accessible for inspection purposes. To compensate for this, a more stringent design was carried out compared to the normative requirements. In addition, a complex monitoring system is used. The prestressing system, which is innovative for railway projects, and the permanent monitoring of the structure ensure unrestricted use of the construction in the long term.
Architecture
Ingenhoven Architekten, Düsseldorf/Germany
Planning time
2011 – 2020
Construction time
2014 – 2025
Services by Werner Sobek
Structural engineering (WP 3 – 5 + 8)
Client
DB Projektbau GmbH, Stuttgart/Germany
Images
Ingenhoven Architekten, Düsseldorf/Germany
Werner Sobek, Stuttgart/Germany