non nobis – About Building in the Future
We're not born for ourselves alone, nor do we act for ourselves alone: what we decide and do as a society today reaches far beyond our own horizon. It has an impact far into the future. In order to do justice to our common responsibility, we need cleanly researched facts. And a precise presentation of connections that exist between these facts.
Only in this way can knowledge emerge!
Order the book here.
Layout and infographics: büro uebele visuelle kommunikation
Issue 1: You have to start from what is
With Volume 1 of his trilogy "non nobis", Werner Sobek presents the first comprehensive contemporary analysis of his industry. A new standard work that forms the basis for building in the future. The book offers a worldwide inventory of current trends and developments that directly affect our built and natural environment – and are massively influenced by the way we build: Resource consumption and availability, building materials, emissions, energy, global warming, climate targets, population trends and much more.
Order volume 1 of the trilogy "non nobis" here
Layout and infographics: büro uebele visuelle kommunikation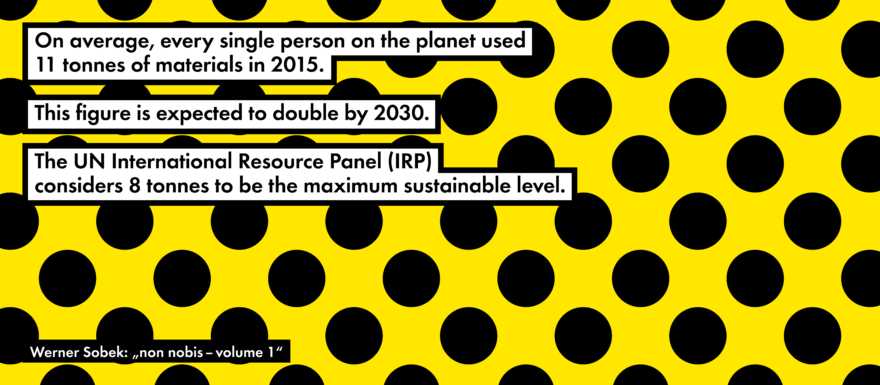 Key message I: Materials
The building industry is largely responsible for the worldwide emission of climate-damaging gases and the overexploitation of nature and resources. In the first volume of his trilogy "non nobis", Werner Sobek clearly explains how exactly this share is made up.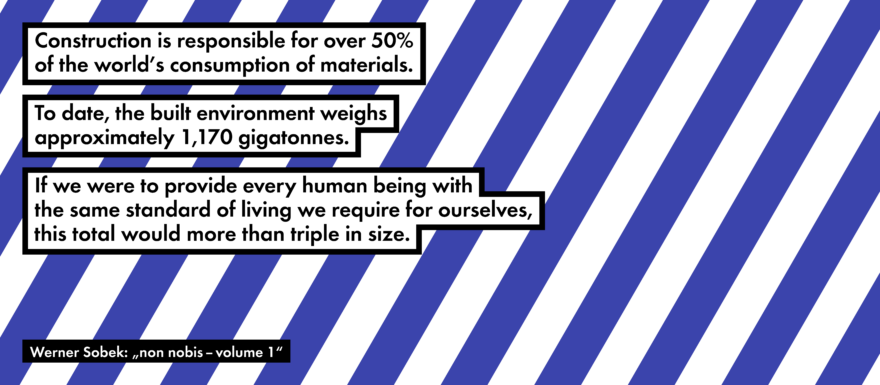 Key message II: Resources
Construction accounts for more than 50 % of the world's material consumption. In the first volume of his trilogy "non nobis", Werner Sobek explains exactly how this material consumption is made up.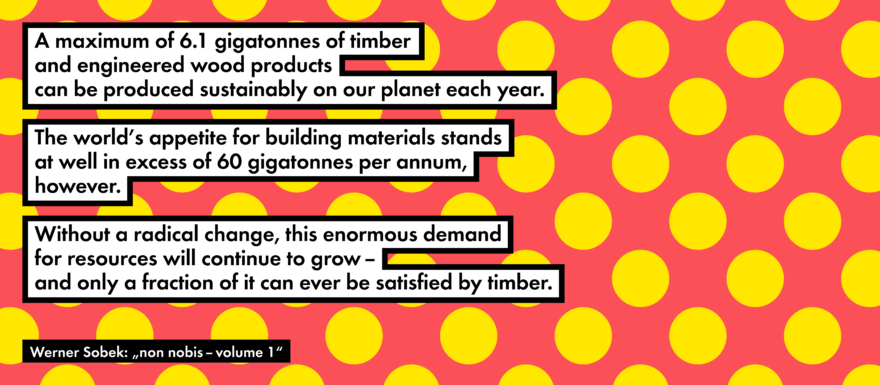 Key message III: Building materials
The construction sector tops the list of material-consuming industries worldwide - and the demand for building materials continues to rise dramatically. Global demand now exceeds 60 Gt per year. These are alarming figures...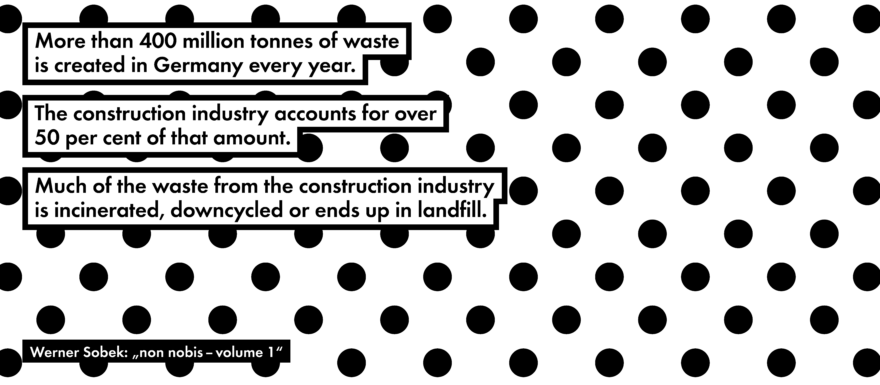 Kernaussage IV: Abfälle
400 Millionen Tonnen Abfall fallen alleine in Deutschland pro Jahr an. Der Anteil des Bauwesens an diesen Abfällen beträgt mehr als 50%. Ein großer Teil der Abfälle aus dem Bauwesen wird verbrannt oder im Downcycling verwendet...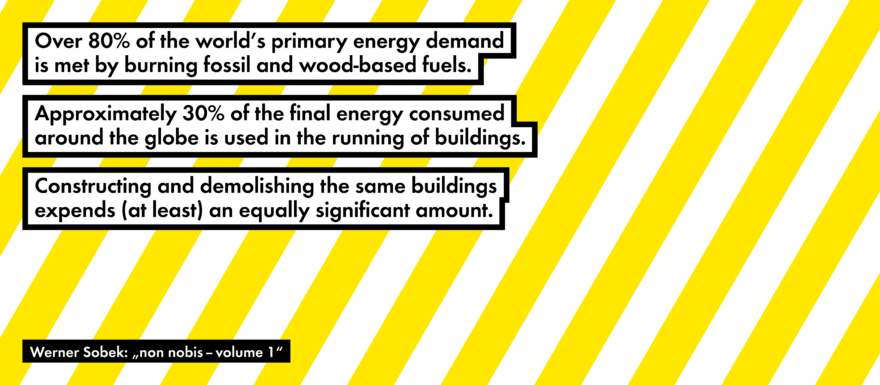 Key message V: Energy consumption
To date, the main share of primary energy demand is derived from fossil sources and wood. The use of buildings accounts for about 30 % of global final energy consumption. The production and demolition of buildings, in turn, cause (at least) an equally large share, which, however, has hardly received any attention so far...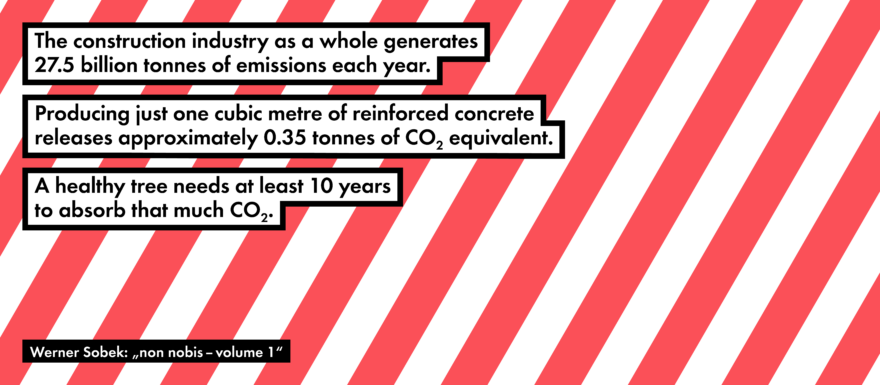 Key message VI: Emissions
It is now undisputed that climate-damaging gases are responsible for climate change. Although the main polluters and possible absorbers are known, CO₂ emissions continue to rise steadily...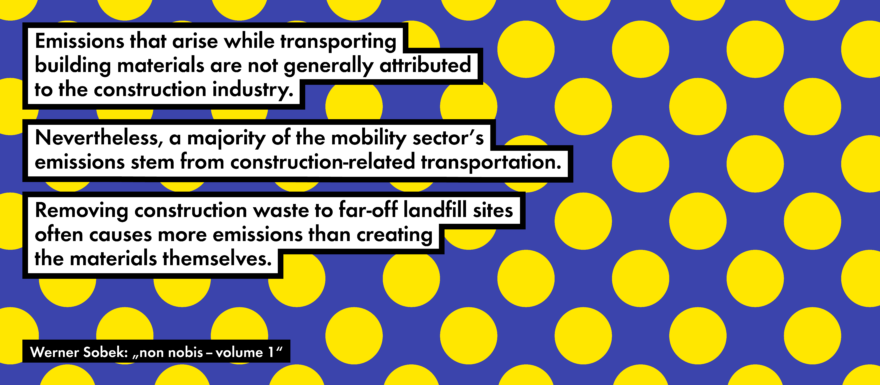 Key message VII: Transport
A large share of energy consumption and emissions in the mobility sector is generated by transport in the construction sector. However, these figures are often attributed to other sectors. This means that the true correlations are obscured...
Conclusion: building industry bears responsibility!
The emission of climate-damaging gases, the consumption of precious materials from our nature or the toxic waste produced – the building industry is significantly responsible for all these aspects. And must finally act responsibly!
Order volume 1 of the trilogy "non nobis" here