The P4 project (EPA – Efficiency House Plus in Old Buildings) in Neu-Ulm/Germany shows how a radical improvement in energy efficiency can even be achieved in old buildings by suitable planning and construction measures – while at the same time significantly increasing living comfort.
In P4, the interior of the existing building was upgraded, for example with new bathrooms. The entire living space receives more daylight through enlarged windows. The building services were integrated into the outer shell. For this purpose, a prefabricated, highly heat-insulating facade system with all the necessary piping components was mounted on the existing exterior wall.
Customised Prefabricated Building Envelope
To create the prefabricated building envelope, the existing building was first measured with a 3D laser scanner. Based on the 3D model of the house generated in this way, customised facade elements were designed, computer-manufactured and pre-assembled. Windows, shading technology, photovoltaics and ventilation pipes were completely integrated at the factory. Finally the new building envelope was placed over the existing building.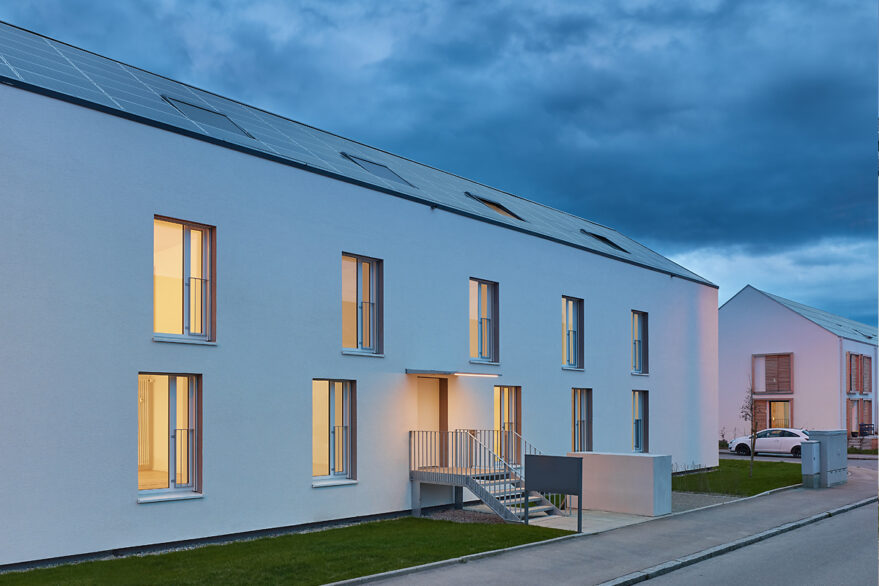 Long Tradition of Sustainability Consulting at Werner Sobek
Due to the high degree of prefabrication, the new building envelope could be installed easily and quickly. The interior measures, such as upgrading storey ceilings to achieve comfortable sound insulation, were carried out conventionally on site. This ensured that all steps were optimally adapted to the situation on site.
P4 is a good example of Werner Sobek's long tradition of sustainability consulting.
Architecture
Werner Sobek, Stuttgart/Germany
Planning time
2012 − 2013
Construction time
2013 − 2016
Services by Werner Sobek
Design
Sustainability concept
General planning
MEP engineering
Site supervision
NFA
1,146 m²
Client
German Federal Ministry of Transport, Building and Urban Development
German Federal Institute for Research on Building, Urban Affairs and Spatial Development
Photography
Zooey Braun, Stuttgart/Germany