The Waldkliniken Eisenberg intend to make their existing buildings and the planned new buildings climate-neutral in the near future by adding renewable energies and intelligent consumption control. This would enable them to meet the Active House Standard developed by Werner Sobek for the first time for an entire hospital site. Werner Sobek advised the institution on this path for several years. For this purpose, the possibilities for achieving the goal were examined in detail in a study funded by the Thuringian Ministry for the Environment, Energy and Nature Conservation with money from the European Regional Development Fund ERDF.
Goal: First Active House Standard for Entire Hospital Area
The basis of the study was an in-depth analysis of the existing buildings and the existing plans for new buildings. The considerations ranged from the energy properties of the building shells to the heat and cold generators to individual light sources and circulating pumps. This was followed by an investigation of the renewable energy and heat sources that could be tapped at the site.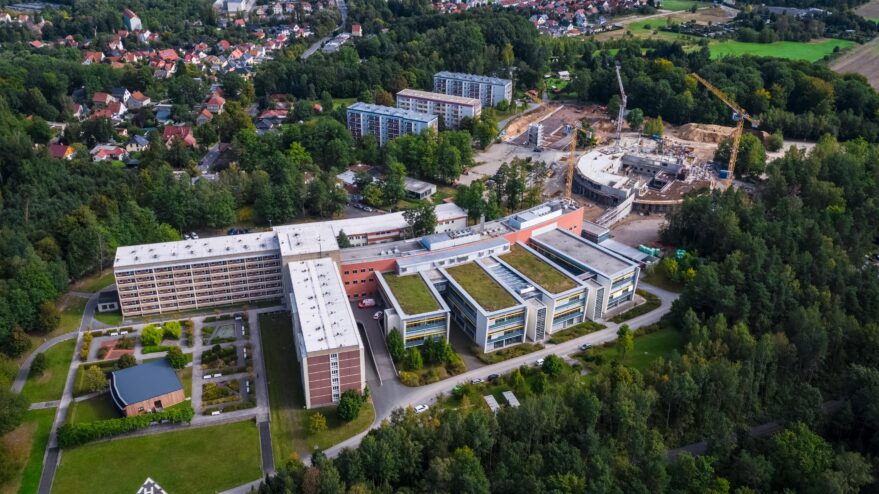 The annual energy savings, the avoided CO2 emissions and the dynamic payback periods were calculated for all the measures analysed. Based on this, an energy concept that can be implemented economically in the short term was developed, which initiates the first steps on the way to a climate-neutral hospital site.
The Waldkliniken in Eisenberg are the largest university orthopaedic clinic in Europe, with the Department of Orthopaedics of the Friedrich Schiller University in Jena located there. In addition, the clinics provide comprehensive basic and standard care for the Saale-Holzland district.
For more informations about "Green Technologies" see podcast (German)
Architecture
Matteo Thun & Partners, Milan/Italy
HDR, Düsseldorf/Germany
Planning time
2014 − 2015 and 2017
Construction time
2014 − 2015 and 2017
Bed house opening 2020
New building rehabilitation until 2025
Services by Werner Sobek
Energy and sustainability potential study
Analysis and documentation of the existing structural and systems technological state of affairs
Development of a short-term energy concept and a medium-term, multi-stage modernisation strategy
GFA
35,000 m²
Client
Waldkliniken Eisenberg GmbH, Eisenberg/Germany
Photography
HG Esch, Hennef/Germany
Björn Walther