Reception Building Schmalz
The reception building of the Schmalz company is located at the headquarters in Glatten, district of Freudenstadt, and gives the company a new representative entrance. The architects designed a modern building with a wide glass front, open interior design and numerous light-flooded rooms. The new communication centre consists of three floors and expands the Schmalz company with a spacious conference area, exhibition rooms, a meeting point, a canteen and modern work areas for the employees.
New Representative Entrance…
The site is centrally located between a historic old building and the current production hall. In terms of height, the new building takes up the existing edges and their austere structural characteristics in its composition. By exposing the building over the adjoining joints, a respectful distance to the neighbouring buildings is maintained, and at the same time its important significance in this ensemble is underlined.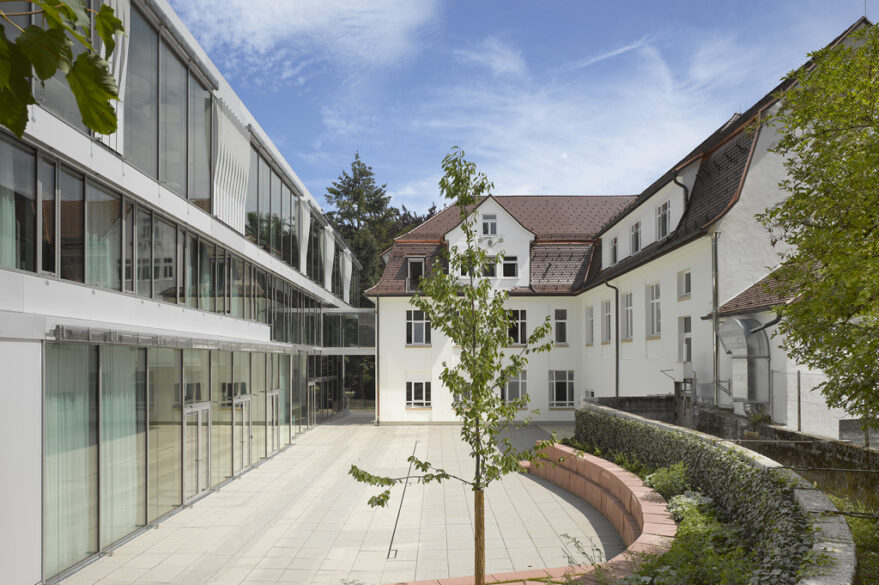 …With a Particularly Efficient Energy Concept
A particularly efficient energy concept was implemented during construction. Cooling is provided by water from the Glatt River, and the ventilation system with heat recovery ensures a pleasant indoor climate. Thanks to the modern energy concept, the overall energy efficiency of the building is 50 % below the specified value of the Energy Saving Ordinance. The new building is connected to the local heating network of the company's own heating system. There is a photovoltaic system on the roof and on the pedestrian walkway between the new and existing buildings.
In 2016, the building was honoured by the Baden-Württemberg Chamber of Architects with the "Exemplary Building" award in the Calw and Freudenstadt region.
Architecture
Haas Cook Zemmrich, Stuttgart/Germany
Planning time
2013 − 2014
Construction time
2014 − 2015
Services by Werner Sobek
Structural engineering
MEP engineering (WP 1 − 8)
Building automation (WP 1 − 8)
Photovoltaics
Building physics consultancy
Daylight and thermal simulation
GFA
2,211 m²
Client
Firma Schmalz, Glatten/Germany
Photography
Rolang Halbe, Stuttgart/Germany
Awards
Exemplary Building – Calw and Freudenstadt Region 2016