For the extravagant new building of the Montblanc House, Werner Sobek was responsible for the planning of the building services, supporting structure and facade. The facade of the 110 m long and around 12 m wide building structure is clad with black, relief-like exposed concrete wall elements. On the front side, a cantilever extends over the entire length of the building, with spans of up to 8 metres.
Black Facade with Relief-Like Exposed Concrete Wall Elements
The Montblanc House is situated on an extensive plot of land in the immediate vicinity of the company's headquarters and production buildings. In addition to the Brand Experience, it houses a meeting room, exhibition space, a boutique and a public café.
Montblanc commissioned the renowned Spanish architects Enrique Sobejano and Fuensanta Nieto from the Madrid-based firm Nieto Sobejano Arquitectos to design the architecture of the new building.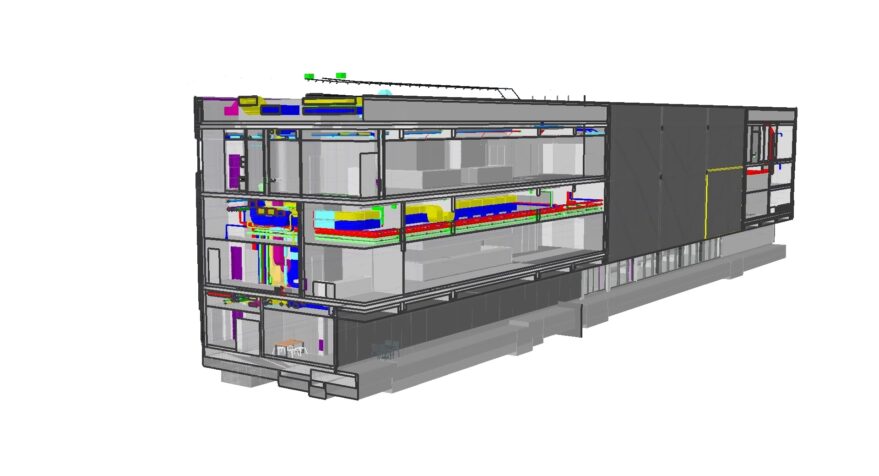 Architecture
Nieto Sobejano Arquitectos, Madrid/Spain
(WP 1 – 3 + design lead)
PLAN FORWARD GmbH, Stuttgart/Germany (from WP 4)
Project Management
W+P Gesellschaft für Projektentwicklung mbH,
Stuttgart/Germany
Planning time
2016 – 2020
Construction time
2019 – 2022
Services by Werner Sobek
MEP planning (WP 1 – 4)
Structural engineering (WP 1 – 8)
Facade engineering
(Glass and details
BIM specialist planning
(Demand planning; Visualisation; Analysis, simulation and verification; Quantity take off and cost analysis/estimation)
GFA
4,390 m²
Client
Montblanc Simplo GmbH, Hamburg/Germany
Photography
Margot Gottschling, Overath/Germany
Roland Halbe, Stuttgart/German
Daniel Schäfer, München/Germany