Orbit Tower is the joint design by ODA Architecture and Werner Sobek New York for a 44-storey office building in the heart of Manhattan. It won first prize in the "Metals in Construction" ideas competition in 2017. The task was to design a sustainable high-rise building with an innovative system of supporting structure and facade. The building should not only use as little grey energy as possible, but also be particularly economical in terms of energy consumption during operation – while at the same time offering a high level of user comfort.
Sustainable High-Rise, Innovative System of Supporting Structure and Facade
The 220 m high building has the shape of a hyperboloid, which is divided into four ten-storey units. Between each of these units is a level with gardens. The facade area is column-free, ensuring a high degree of transparency with interesting views. The exterior sun protection consists of perforated thin steel sheets that are connected to each other by special joints made of shape memory alloys. They form an origami-like folding structure that opens or closes automatically depending on temperature conditions.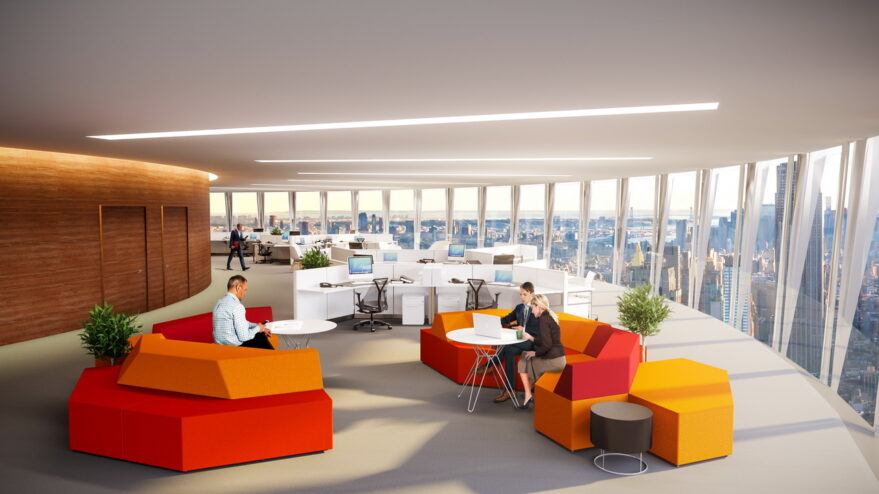 The need for heating or cooling can be reduced to an absolute minimum by this solar protection as well as by the highly efficient triple glazing used. On the roof is a "forest" of piezoelectric glass fibre elements, which contribute to the generation of energy within the building through their movement in the wind.
Architecture
ODA Architecture + Werner Sobek, New York/USA
Planning time
2017
Construction time
n.a.
Services by Werner Sobek
Structural design
Facade design
Daylight design
Sustainability planning
Concept design
GFA
85,000 m²
Client
Steel Institute of New York/USA
Photography
ODA Architecture, New York/USA