The city of Winnenden needed a short-term solution for a plot of land on the edge of an existing residential area: around 200 civil war refugees from Syria had to be housed promptly. The residential complex to be built was to offer individual housing units with their own bathroom and kitchen. In addition to the alternative usability of the complex, its economic feasibility was decisive for its realisation. Other important criteria for the client were compliance with sustainable standards for energy consumption and the deconstructability of the project.
Short-Term Feasibility, Sustainable Standards
A total of 38 modules of the 700 series from Aktivhaus were used in the building project in the Schelmenholz district (www.ah-aktivhaus.de). The 701 model was used 22 times. It generally has a gross floor area of 45 m² and offers space for a bedroom, a kitchen and a bathroom. Model 702, which was used 16 times, has a gross floor area of 60 m² each, so that two bedrooms are accommodated here in addition to a kitchen and a bathroom. In addition to the actual residential modules, there is a technical module, two common rooms and a multifunctional room that includes washing machines and dryers, among other things.
The Active House Settlement shows how our built environment can be designed quickly, sustainably and aesthetically pleasing in the future.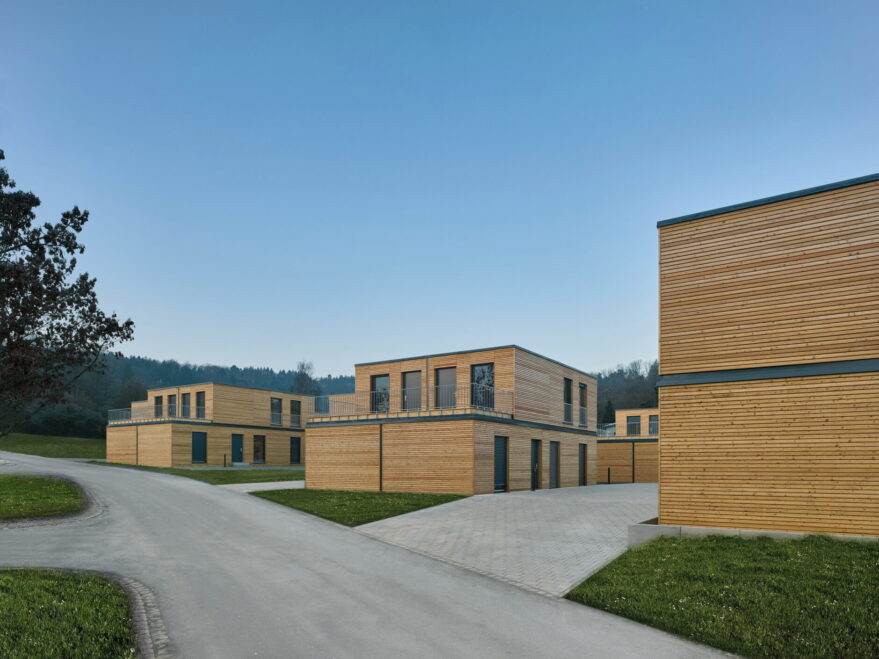 Aktivhaus Settlement – Can Also be Used Alternatively!
The Aktivhaus modules in timber frame construction stand two-storey high on a slightly sloping site with a view of the neighbouring vineyards. In addition to adapting to the topography and urban location, an important aspect in the planning was the design of the outdoor spaces. These were to ensure that there was also a high quality of stay in the outdoor area.
The Aktivhaus modules were used for about three years to provide follow-up accommodation for civil war refugees. Since then, the buildings have been used as social housing. Minimal interior alterations had to be made for this purpose.
Architecture
Werner Sobek, Stuttgart/Germany
Planning time
2016
Construction time
2016
Services by Werner Sobek
Design
Technical Building Services plannings
Structural engineering
Site supervision
GFA
2,025 m²
Client
Kreisbaugesellschaft Waiblingen mbH, Waiblingen/Germany
Awards
Premio Natura 2017
German Timber Construction Award 2017
materialPREIS 2017
Hugo Häring Distinction 2017
Photography
Zooey Braun, Stuttgart/Germany