Following on from the "Wiener Platz" stop, two further tram stops in Dresden were realised by Werner Sobek. The "Kesselsdorfer Straße" stop consists of two glass roofs on both sides of the tracks. They are approx. 50 m long, 4.50 m wide and are located approx. 4 m above the ground. Their load-bearing structure consists of steel trusses and a torsion tube. All load-bearing elements are located above the glazing. The round steel supports of the roofs are spaced at 7.50 m intervals. In addition, the waiting area is protected by approx. 2.50 m high glass walls at the back.
Once with Glass Walls…
The stop "Bahnhof Strehlen/Oskarstraße" consists of a total of five smaller passenger shelters with roof, back and side glazing. Here, too, the supporting steel structure is located above or outside the glazing. The shelters are 6.25 m and 11.25 m long, approx. 2 m wide and 2.50 m high and are based on pipe foundations.
…Once with Roof, Back and Side Glazing
The light rail shelters are a good example of the diversity covered by Werner Sobek's facade engineering.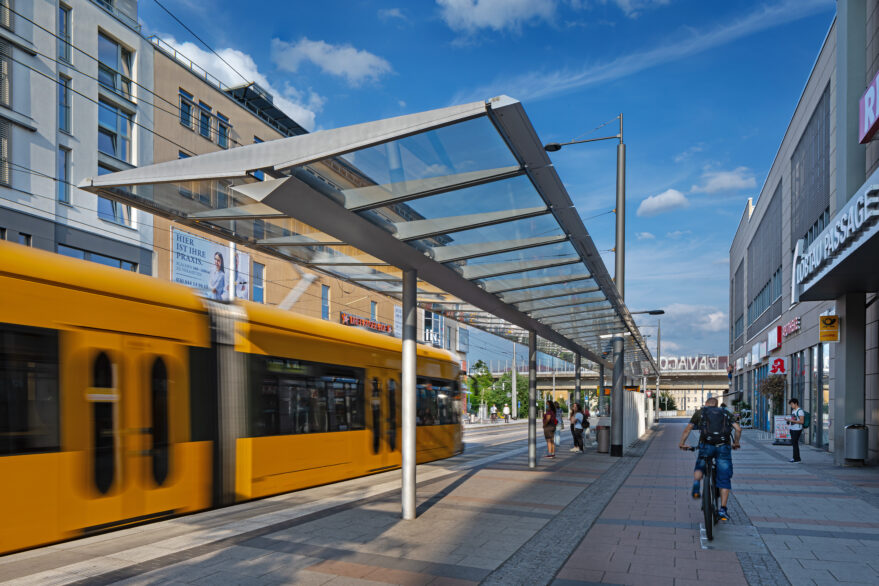 Architecture
Architects Körnerweg, Prof. Langner von Hatzfeldt, Dresden/Germany
Planning time
2016 − 2017
Construction time
2019 − 2020
Services by Werner Sobek

Structural engineering (WP 1 − 6 acc. to HOAI)
Facade engineering (WP 1 − 6 acc. to HOAI)
Area
225 m² (Kesselsdorfer Straße)
80 m² (Station Strehlen/Oskarstraße)
Client
Dresdner Verkehrsbetriebe (DVB), Dresden/Germany
Photography
Andreas Keller, Altdorf/Germany