Four skyscrapers connected by a shared base structure lie at the core of the urban redevelopment of Frankfurt's Deutsche Bank estate. The winning design involves demolishing all but the historically listed buildings on Junghofstraße to make space for the development on the proposed site. According to the concept, the individual towers will stand at 228 m (Tower 1), 173 m (Tower 2), 120 m (Tower 3) and 100 m (Tower 4) in height. The largest of the towers – a 59-storey skyscraper located on Neue Schlesingergasse – will serve as a hotel and office building. The shortest tower – situated on Junghofstraße – will also house offices. The remaining two high-rises will contain 600 apartments. The gross floor area of the buildings will amount to 210,000 m² above ground and 100,000 m² below ground. At least 90,000 m² of this area will be dedicated to office space, around 60,000 m² will be used for apartments, 30,000 m² will house hotels and a further 20,000 m² will accommodate retail outlets and eateries.
After consultation with the city's historic monument authorities, permission was granted for the creation of two openings in the long block of 1950s buildings on Junghofstraße to allow public access to the site for the very first time. The new six-storey base structure will contain shops, food outlets and a day care centre in a move to revitalise the area and transform it into a vibrant public space.
The construction site is one of the largest ever seen in Frankfurt and provides employment for up to 3,000 people. The size of the overall investment is estimated at one billion euros. When complete, the new urban quarter will offer workspaces for 3,000 people and accommodation for a further 1,000.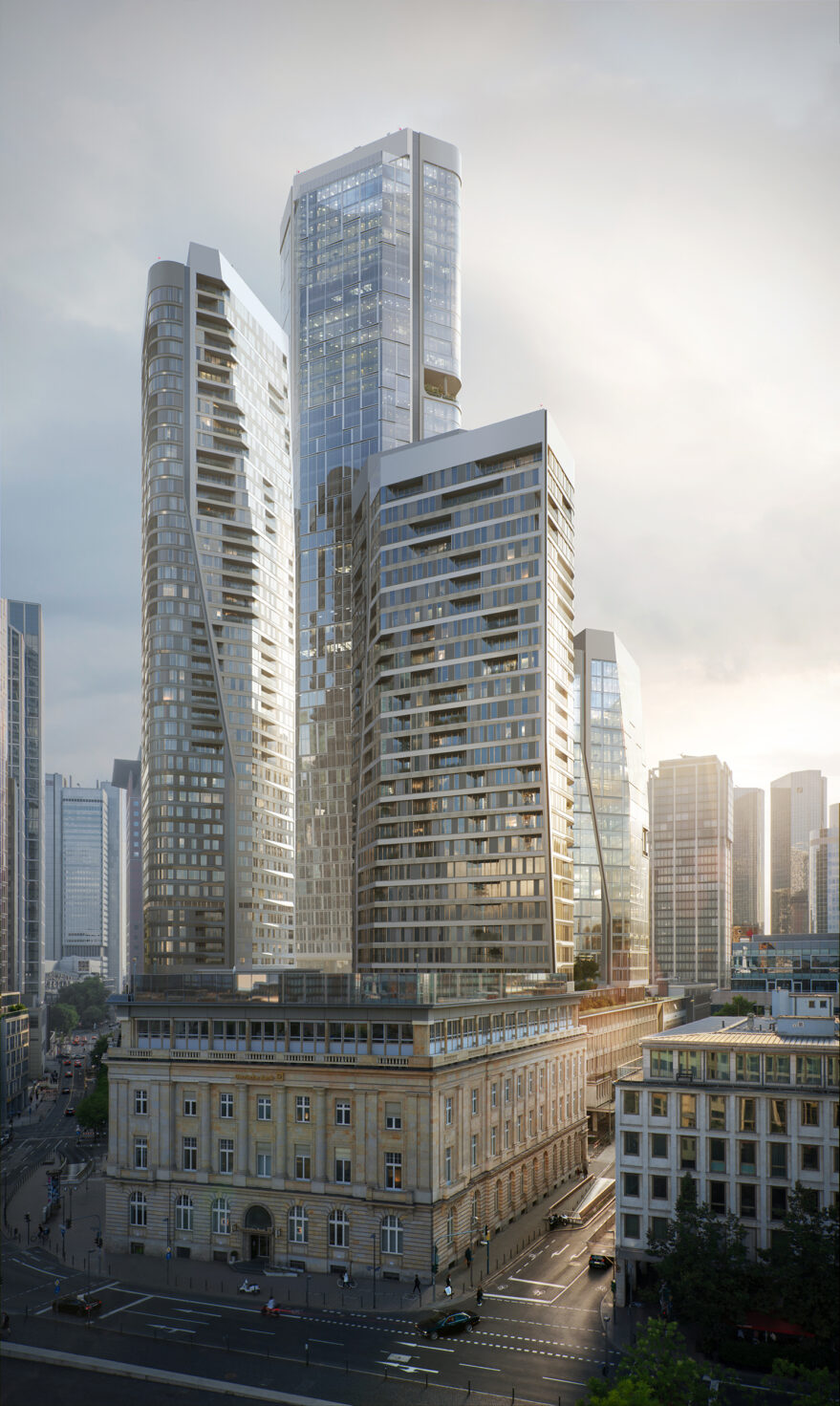 Architecture
UNStudio, Amsterdam/The Netherlands
HPP Architekten GmbH, Düsseldorf/Germany
Planning time
2017 – 2022
Construction time
2018 – 2024
Services by Werner Sobek
Structural engineering (WP 1 – 8 acc. to HOAI § 64; in cooperation with Bollinger + Grohmann, Frankfurt am Main/Germany)
Structural analysis for demolition of existing buildings
Excavation wall engineering
Special structures – steel construction
GFA
325,000 m²
Client
Groß & Partner, Frankfurt am Main/Germany
Photography
https://www.unstudio.com/, Amsterdam/The Netherlands
Groß & Partner, Frankfurt am Main/Germany