As part of the refurbishment of the Deutsche Bank site in Frankfurt a.M., the construction project Four is being built, four high-rise buildings connected by a common base building. The high-rise buildings are 228 metres (Tower 1), 173 metres (Tower 2), 120 metres (Tower 3) and 100 metres (Tower 4) high respectively. The tallest building on Neue Schlesingergasse with 59 floors is intended for hotel and office use. The lowest building on Junghofstraße is also intended for office use, and 600 flats are planned in the other two towers. The gross floor area is 210,000 m² above ground and 100,000 m² below ground, of which at least 90,000 m² for offices, about 60,000 m² for flats, 30,000 m² for hotels and 20,000 m² for retail and gastronomy.
One of Frankfurt's Largest Construction Sites
In agreement with the city's authorities for the protection of historical monuments, the 1950s building block on Junghofstraße may be opened up in two places to allow public access to the area, which has not been possible up to now. Shops, restaurants and a day-care centre in the new six-storey basement building will revitalise the area for the public.
The construction site is one of the largest ever in Frankfurt. It employs up to 3,000 people. The investment volume is estimated at one billion euros. 3,000 people are to work in the new quarter one day, and at least 1,000 people are to live there.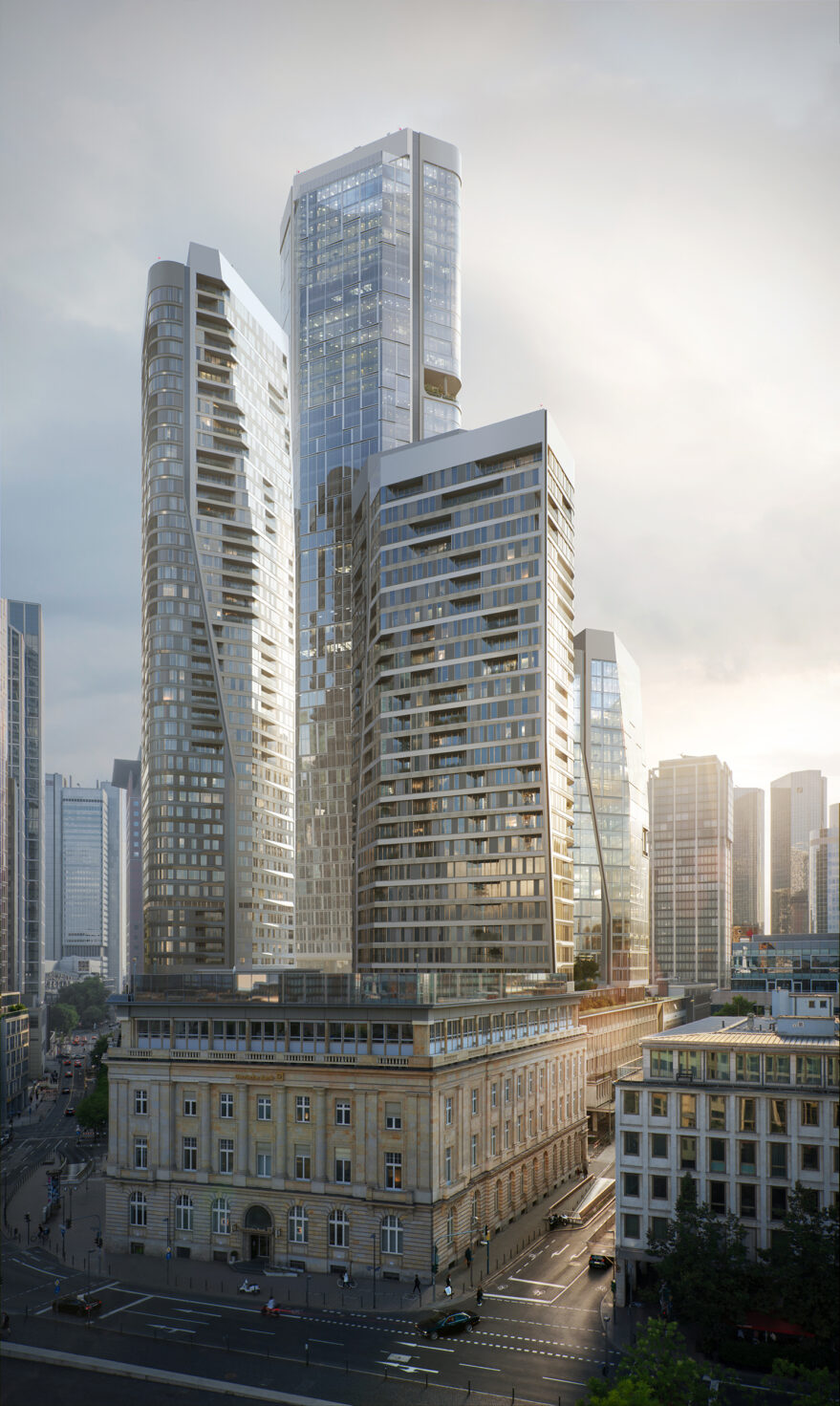 Architecture
UNStudio, Amsterdam/The Netherlands
HPP Architekten GmbH, Düsseldorf/Germany
Planning time
2017 – 2022
Construction time
2018 – 2024
Services by Werner Sobek
Structural engineering (WP 1 – 8 acc. to HOAI § 64; in cooperation with Bollinger + Grohmann, Frankfurt am Main/Germany)
Structural analysis for demolition of existing buildings
Excavation wall engineering
Special structures – steel construction
GFA
325,000 m²
Client
Groß & Partner, Frankfurt am Main/Germany
Photography
https://www.unstudio.com/, Amsterdam/The Netherlands
Groß & Partner, Frankfurt am Main/Germany