The planned substantial scheme of expansion and modernisation of Cologne Trade Fair Venue is intended to make the location next to the Köln-Messe/Deutz ICE railway station fit for the future.
Fit For The Future: Optimally Flexible Hall Combination
A total of approx. 700 million euros is to be invested in the project by 2030. Three new buildings form the core of the proposed master plan for the site. The 1plus trade fair hall, a structure containing around 10,000 m² of exhibition space, has been added to the northwest of the grounds. The southwest of the site features the 'Confex', a multifunctional hall for trade fairs, conventions and other events. Furthermore, an intelligent east-west terminal linking all trade fair areas is to be built. In addition, the fair will have a new, distinctive East Entrance.
Two roof foyers provide direct access from the parking decks to the conference level, which becomes a special spatial experience with spectacular views and vistas.
Finally, a central terminal building measuring approx. 460 m in length will link the new structures with the existing exhibition halls. This building will also provide circulation space for visitors arriving via the entrances located along the river Rhine to the west and on Deutz-Mühlheimer Straße to the east.
Werner Sobek is responsible for the structural enginnering, facade engineering, and the special roofs.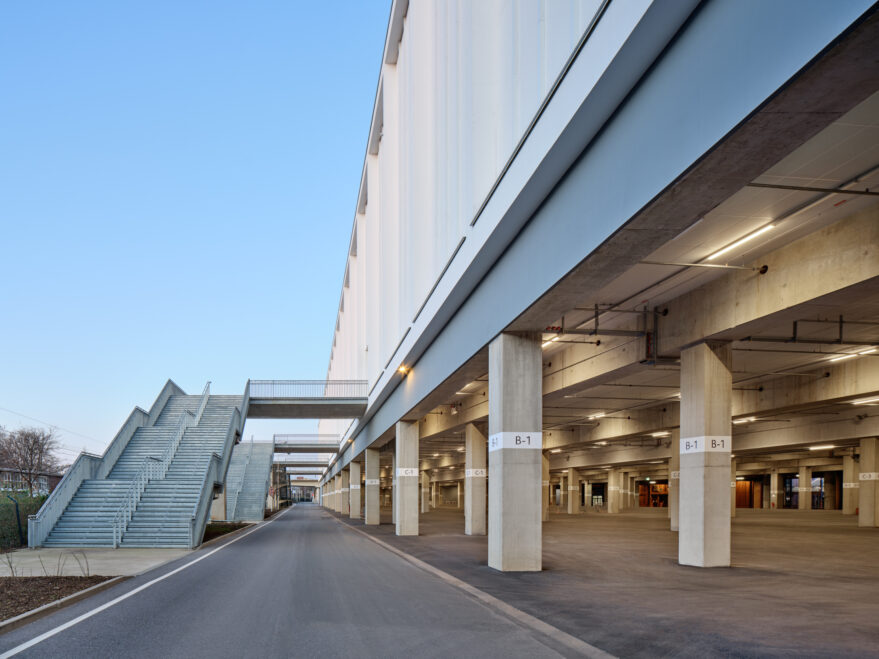 Architecture
JSWD Architekten GmbH & Co. KG, Cologne/Germany
Planning time

Halle 1plus 2016 – 2018
Confex 2016 – 2021
Terminal 2016 – 2021
Construction time
Hall 1plus 2017 – 2019
Confex 2018 – 2021
Terminal 2019 – 2024
Services by Werner Sobek
Structural engineering (steel construction Halle 1plus)
Special roofs entrance areas terminal building
Facade engineering (all building parts)
GFA
Hall 1plus approx. 25,000 m² (incl. parking and logistics space)
Confex approx. 21,000 m² (incl. parking and logistics space)
Terminal approx. 64,000 m² (incl. parking and logistics space)
Client
Koelnmesse GmbH, Cologne/Germany
Photography
Constantin Meyer, Cologne/Germany