Trade Fair Tower Frankfurt
The second tallest building in Germany – "Messeturm in Frankfurt am Main"– was opened in 1991. Due to its special shape, the tower is also called "perncil" by the residents of Frankfurt.
17 m High Glass Facade – Art Déco meets Transparency
The entrance hall of the Messeturm designed by Helmut Jahn has been remodelled 30 years after the building was first inaugurated. Large-format glazing have been added to all four sides of the tower to open the lobby up to the world outside. Each measuring 17 m x 2,8 m and weighing 6 t, the panes used in this modification are the largest curved pieces of insulating glass ever installed in any building on the planet.
As the projecting curvature of the glazing extends the tower's thermal envelope beyond its original limits, thermally separated roof constructions have been included to bridge the gaps between the new glass walls and the sides of the Messeturm itself. During the remodelling process, the elevator core inside the building has been clad in a backlit cylindrical glass facade – the so-called "light wall". Curved laminated glass panes with 2 x 6 mm TVG with a 50% transparent film were used. The "light wall" covers a total area of 1,100 m².
Werner Sobek was responsible for the structural engineering and the facade engineering.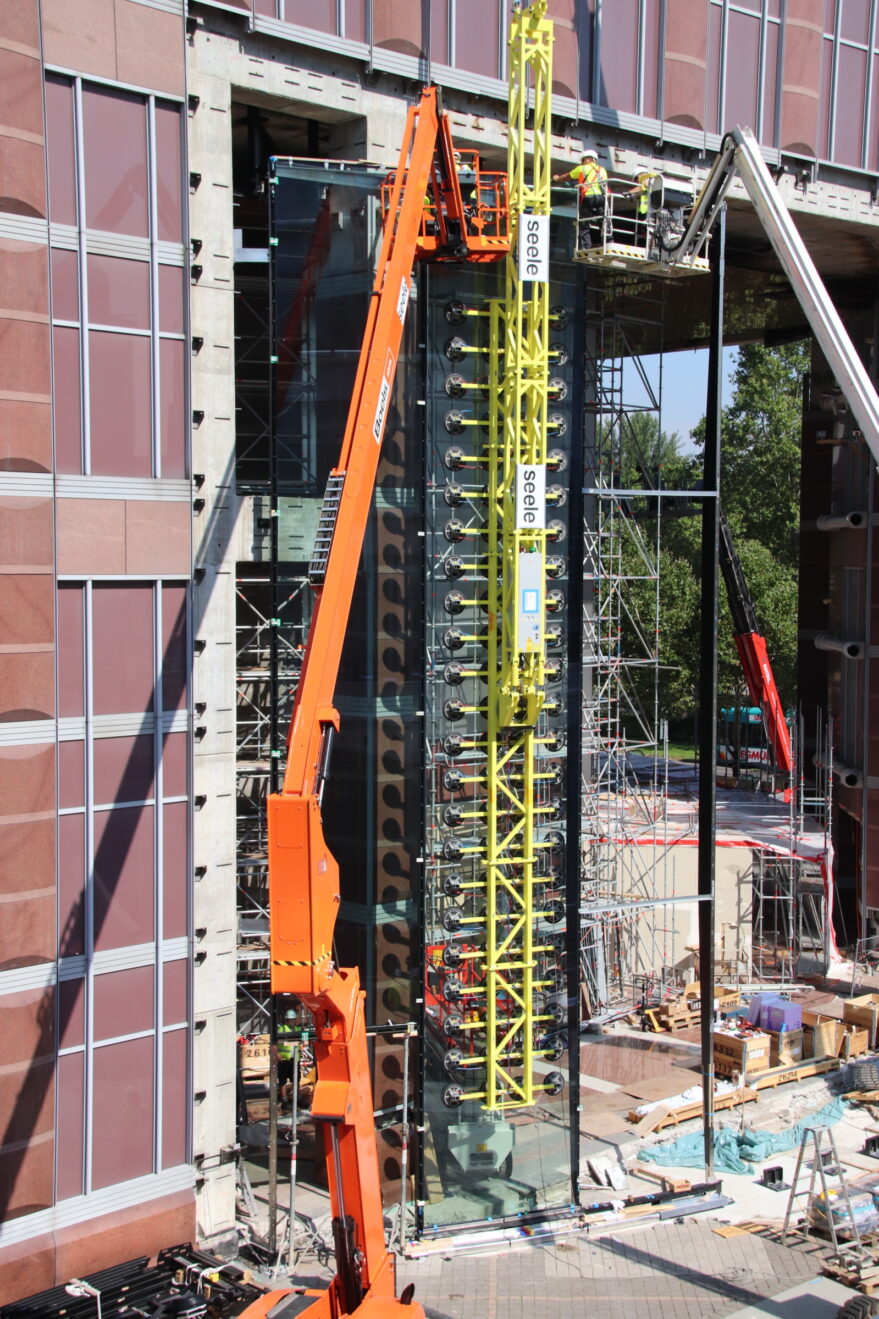 Architecture
Jahn, Chicago/USA
Planning time
2018 − 2019
Construction time
2019 − 2020
Services by Werner Sobek
Structural engineering (WP 1 – 6)
Facade engineering (WP 1 – 6)
Client
MesseTurm PropCo S.a.r.l./Luxembourg
Photography
Henning Kreft, Langen/Germany
Site photography
Werner Sobek, Stuttgart/Germany