House of European History
The House of European History in Brussels was designed and planned by the Cologne-based firm JSWD Architekten and the Paris-based studio Chaix & Morel et Associés. Werner Sobek was responsible for the facade as well as the structural engineering for the project. The home of the new museum is the Eastmann Building, built in the 1930s in the heart of the European Quarter.
Extensive Refurbishment and Extension…
Originally constructed as a dental clinic, the building was extensively refurbished and extended to meet the requirements of a modern museum. The renovation included a complete extension of the courtyard, which was closed on three sides, as well as a three-storey extension. This created space for a 4,000 m² permanent exhibition, an 800 m² temporary exhibition and an event hall with 100 seats.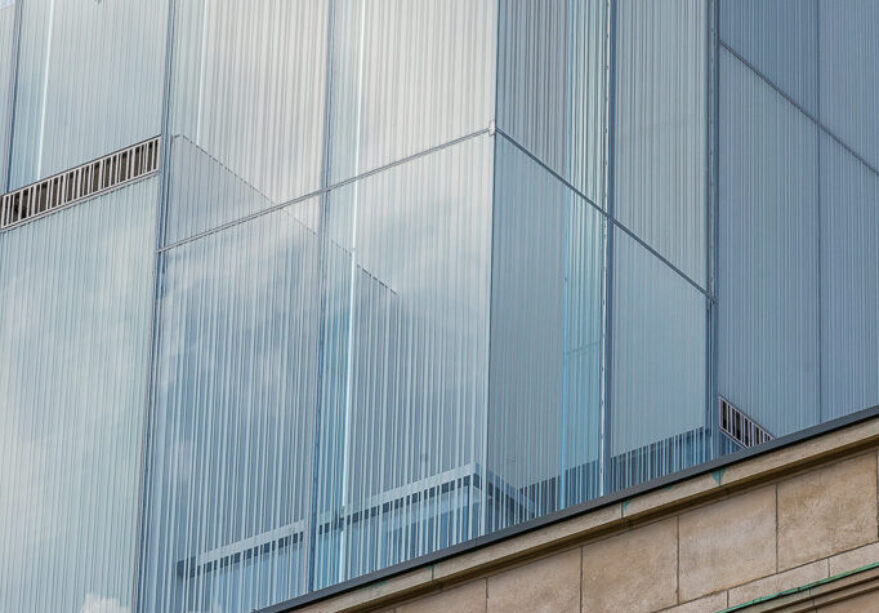 Architecture
Chaix & Morel et Associés, Paris/France
JSWD Architects, Cologne/Germany
Planning time
2011 − 2014
Construction time
2014 − 2017
Services by Werner Sobek
Facade engineering
Structural engineering (fin facade and atrium staircase)
GFA
11,605 m²
Client
European Parliament, Brussels/Belgium
Photography
Christian Richters, Münster/Germany
Christian Fabris, Brussels/Belgium
The extension of the existing building is clearly visible in the exterior facade designed by Werner Sobek. The highly transparent glass facade of the added storeys is in deliberate contrast to the historic natural stone facade of the lower half of the building. The new glass facade is printed with a striped pattern, which reduces solar radiation. The colour of the screen printing was chosen to match the colour of the natural stone.
…Dental Clinic Becomes a Museum
The House of European History was ceremoniously opened by the European Parliament in May 2017. Visitors can learn about the history of Europe and critically engage with contemporary issues there.