The Hager Forum in Obernai is a visitor centre of the German-French electrical engineering company Hager in France. It offers training rooms as well as exhibition space and office work areas for the design and innovation department. The two floors above ground measure 39 x 72 m in plan (the basement extends over the full building width of 39 m, but is only 58 m long).
Atrium with Concrete Bridge, Roof with Transparent Areas
A 15 m wide atrium runs along the central axis, dividing the building into two side wings. In the centre of the building, the upper floors of the two wings are connected by a concrete bridge.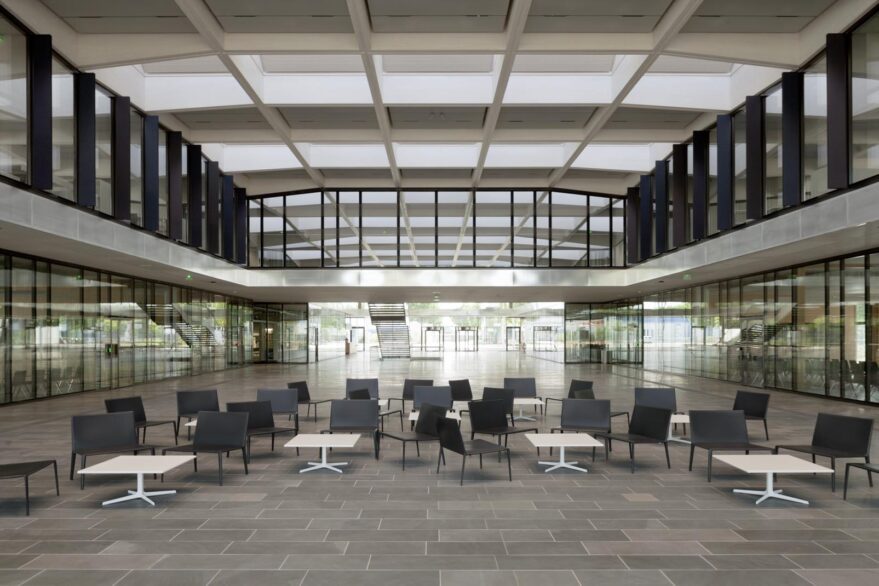 This bridge spans the atrium by means of a prestressed monolith over a distance of 21 metres without supports. The most striking feature of the new building, apart from the long-span bridge construction in the atrium, is the roof structure. The glulam construction cantilevers far over the entrance area. The 39 x 108 m roof rests on a total of only 14 supports.
Horizontal loads are transferred through the roof slab via linear coupling elements into the stiffening reinforced concrete walls. The roof is divided into a grid of 3×3 metres; this regular structure in the ground plan enabled a high degree of prefabrication and a particularly economical construction method. Ceiling sails integrated into the cassettes optimise the acoustic and climatic qualities of the building. Transparent areas let daylight into the house in a targeted manner.
Architecture
Sauerbruch Hutton Architekten, Berlin/Germany
Planning time
2012 − 2013
Construction time
2013 − 2014
Services by Werner Sobek
Structural planning (WP 1 − 6 acc. to § 49 HOAI)
GFA 
7,140 m²
Client
Hager Electro SAS, Obernai/France
Photograpy
Jan Bitter, Berlin/Germany