Located in the German city of Ludwigsburg, the three-storey structure which houses Fuchshofstraße primary school measures approximately 83 m long and 33 m wide. External fire escape balconies run right around the exterior of the building. A cable net structure attached to the ends of these balconies forms the school's facade and prevents the risk of falls. The new building stands at an approximate overall height of 12 m.
Selection of Building Materials according to the Cradle-to-Cradle Principle
The main load-bearing components of this hybrid construction consist of reinforced concrete, steel and wood. Waterproof concrete was used to form the school's cellar structure, which sits beneath the groundwater table. The building's basement level rests on a shallow footing. In contrast, ductile piles support the floor slab of the school's ground floor.
Werner Sobek was responsible for the structural engineering. In the new Fuchshof development area in Ludwigsburg, the school building of the Fuchshofschule is the first building to be built.
The project was awarded the prestigious Hugo Häring Award 2023 by the Association of German Architects (BDA).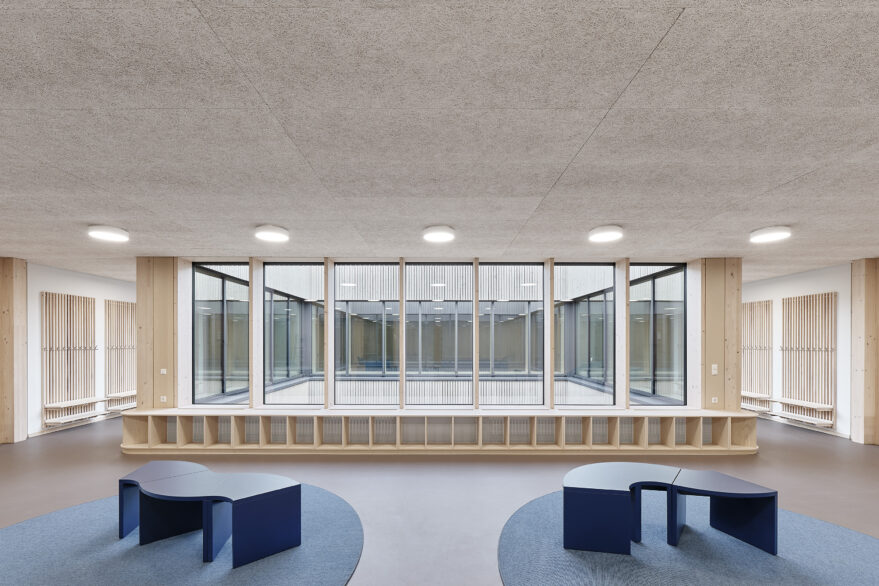 Architecture
Von M GmbH, Stuttgart/Germany
Planning time
2016 − 2020
Construction time
2020 − 2022
Services by Werner Sobek
Structural engineering (WP 1 – 6 acc. HOAI)
GFA
8,800 m²
Client
Municipality of Ludwigsburg/Germany
Photography
Zooey Braun, Stuttgart/Germany