Suspended Ceiling Autostadt
In 2015 Werner Sobek designed a new ceiling for the VW customer centre Autostadt in Wolfsburg. For many customers, the customer centre offers a first opportunity to "get to know" their new car. Reason enough to present the product in the best light. The ceiling and its lighting play an essential role in this. Before the redesign, the ceiling of the VW showroom was made of dark grey steel.
Staging in Pure White with Light Joints…
The new construction of pure white material makes for a much brighter room and thus also emphasises the staging of the vehicles. The ceiling is about 4,900 m² in size. It consists of sandwich panels made of aluminium with a mineral core. They are held in place by a specially designed substructure and fit over the steel structure like a shell. A construction of expanded metal creates a flowing transition from the ceiling to the wall. Light joints set accents and offer the visitor a spatial orientation towards the centre of the room.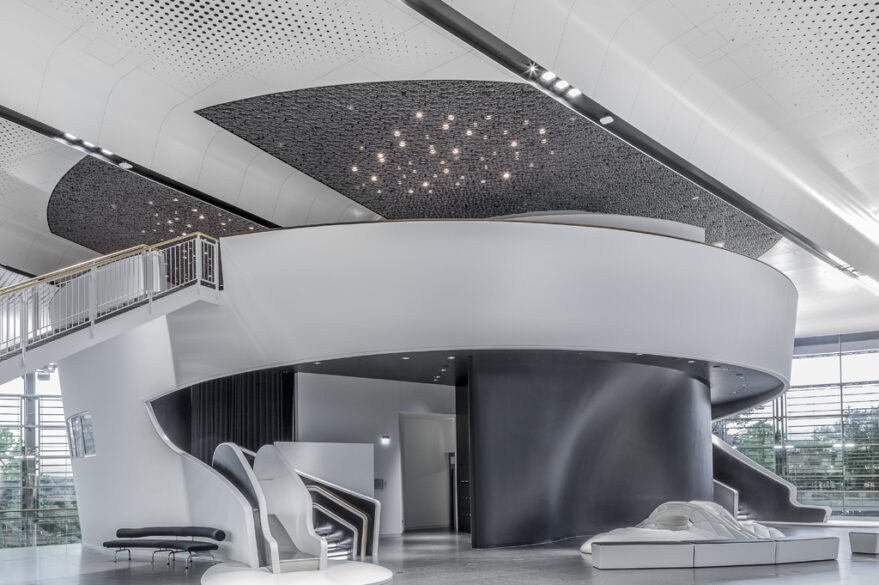 With its homogeneous surface and light colour, the new ceiling offers an even appearance. In addition to aesthetic requirements, it was also necessary to ensure the integration of numerous technical functions. For example, the sprinkler and smoke extraction system – invisible to visitors – are integrated into the construction. A perforation in the ceiling fulfils several functions at once: In the outer areas, these holes were backed with fleece and optimise the acoustics in the customer centre. Further inside the room, they serve as smoke outlets if necessary. Concealed LED floodlights provide indirect lighting. Spotlights and linear light ceilings in the ceiling joints complement the ideal, glare-free lighting conditions.
…and as a Starry Sky
The ceiling in the area above the trading lounge again consists of a metallic cylindrical ceiling. This creates a place with an inviting atmosphere for meetings and discussions. With the integrated luminaires, the ceiling in this area is reminiscent of a starry sky.