For the modernisation of the Sprengel Museum Hannover 2012 – 2015, Werner Sobek was responsible for the structural engineering. The design came from the architectural firm Meili und Peter. The extension consisted of enlarging the foyer and a new exhibition wing. In 2017, the project was awarded the Architecture Prize Concrete.
The two new parts of the building are structurally separated by a joint and have independent structural systems. The foyer consists of a curved ramp that connects the levels of the new entrance, the existing building and the new exhibition wing. The ramp spans the entire event area, measuring approx. 17 x 20 metres.
The exhibition wing adjoins the foyer to the south and consists of a basement, a ground floor and an upper floor. The latter cantilevers over the outer walls of the ground floor in three directions. The construction was designed as a reinforced concrete structure. The roof supporting structures could be executed as a steel construction – thanks to the low requirements for structural fire protection.
Architecture Prize Concrete 2017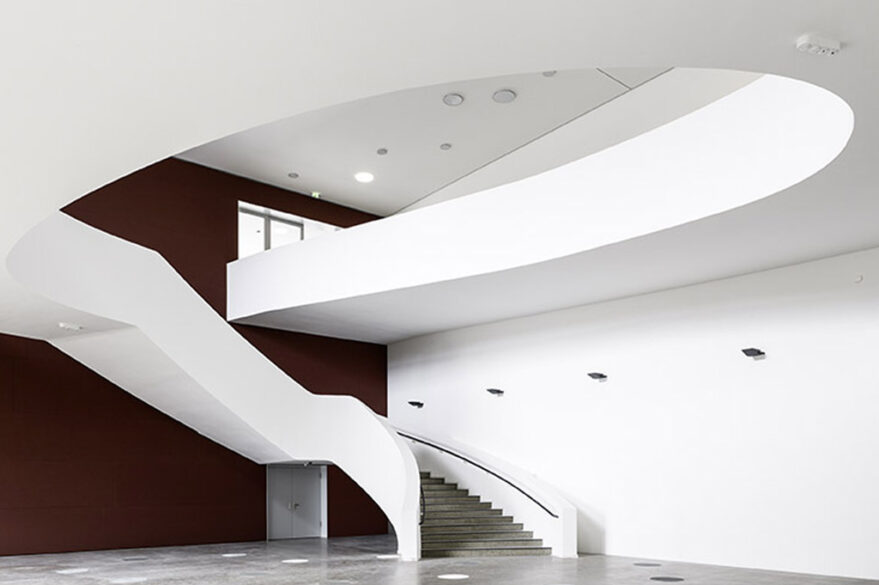 The first construction phase for the Sprengel Museum was opened in 1979 and designed by the architects Peter and Ursula Trint and Dieter Quast.1992 saw an extension with a second construction phase. At this time, the museum received its large auditorium, which is now also used for many external events. The temporary exhibition hall also dates from this construction phase.
With its extensive collection and diverse exhibition programme, the Sprengel Museum Hannover is one of the most important museums of 20th and 21st century art.
Architecture
Meili, Peter Architekten AG, Zurich/Switzerland
Planning time
2011 − 2012
Construction time
2012 − 2015
Services by Werner Sobek
Structrual engineering (WP 1 − 6)
Special engineering (WP 7 − 9)
ARGE Structural Engineering with Drewes + Speth, Hanover/Germany
Floor area of the extension
4,350 m²
Client
City of Hanover/Germany
Awards
Architecture Award Concrete 2017
Photography
Georg Aerni, Zurich/Switzerland