The building for Interstuhl is the company's representative forum in Tieringen-Meßstetten. Exhibiting and communicating become "corporate architecture", the product an exhibit and the building a stage.
The ground floor is the company's communicative interface with its customers, suppliers and employees. In the spacious foyer and café area, customers can make their first informal contact with Interstuhl. This lived exhibition finds its continuation in the conferencing exhibition and training areas at the rear of the ground floor.
Core of the Company Presentation in the Buildings's Nucleus
The recessed nucleus provides space for in-house technical equipment and connects the foyer with the management and the exhibition area on the upper floor. The management's offices above the foyer are equipped to a high standard and function as the head of the company. The "Gedankenschmide", which is the core of the company presentation, is also located in the nucleus. As an intensively staged space, it introduces the exhibition dramaturgy.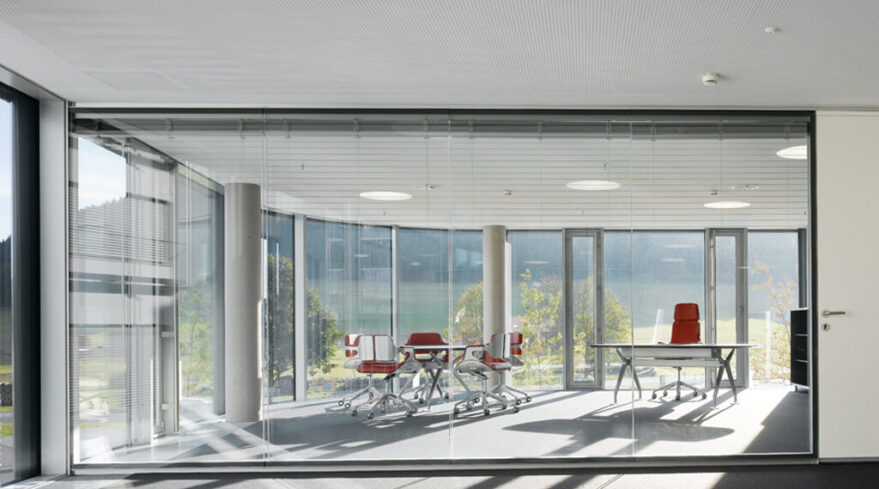 The upper floor consists of a large hall that provides an ideal platform for changing objects. The column-free floor plan guarantees the greatest possible flexibility of use.
DGNB Certificate in Gold
In addition to planning tasks, Werner Sobek carried out a building certification according to the system variant "New Office and Administration Buildings, Version 2008" of the German Sustainable Building Council (DGNB) before construction was completed. In the course of the assessment, "Ecological Quality", "Economic Quality", "Socio-cultural and Functional Quality", "Technical Quality", "Process Quality" and "Site Quality" were evaluated and all evidence required for certification was prepared or its provision coordinated and subsequently assessed. In addition, the life cycle costs were calculated and a life cycle assessment as well as a recycling concept were prepared.
After the certification documents were reviewed by the DGNB, the project was awarded the DGNB Gold certificate.
Architecture
Werner Sobek, Stuttgart/Germany
Planning time
2007 − 2008
Construction time
2008 − 2009
Certification time
2010 − 2011
Services by Werner Sobek
Design
Object planning
Structural planning
Facade planning
DGNB Certification
Life cycle concept
Recycling concept
GFA
3,682 m²
Client
Interstuhl GmbH & Co. KG, Tieringen-Messstetten/Germany
Photography
Zooey Braun, Stuttgart/Germany