The Futurium (formerly: "House of the Future") is an exhibition and event building in Berlin-Mitte. The building is located in the immediate vicinity of the BMBF (Federal Ministry of Education and Research, also planned by Werner Sobek) and the main railway station. The Futurium serves to communicate future-oriented developments of national and international significance, which are made visible to the general public here. It is divided into two basement floors (including the "Futurium Lab"), an upper floor with a large permanent exhibition area and several mezzanine floors over a total gross floor area of almost 14,000 m².
Comprehensive Sustainability Consulting by Werner Sobek
Werner Sobek accompanied the project with comprehensive sustainability consulting. Variant comparisons were carried out to optimise comfort and energy requirements, taking the life cycle into account. This included passive measures with a focus on the facade as well as ecological comparisons of component structures and energy generation. In the course of optimisation, thermal building and daylight simulations were carried out.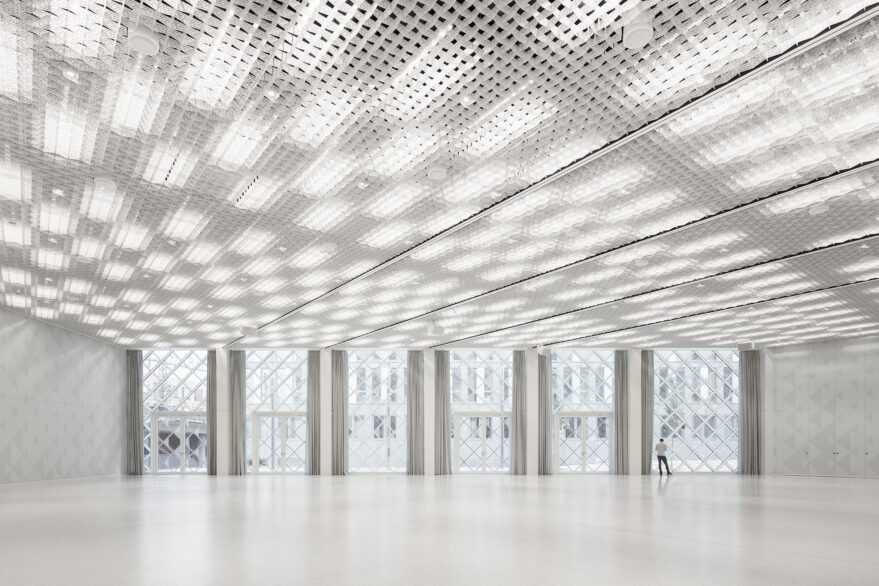 Excellent Energy Concept with BNB Gold Standard
One focus of the consultancy was the close cooperation with the TGA planner and building contractor for the joint optimisation of the energy concept. The result is a coordinated, innovative energy concept with regard to active and passive measures (e.g. by integrating latent heat storage). Thanks to a comprehensive consideration of all sustainability issues in planning and execution, the Futurium fulfils the BNB Gold Standard as a holistically economically, socio-culturally and ecologically optimised building – with the highest score ever achieved in a BNB certification. In the demanding criterion "risks for the local environment", the highest possible quality level was achieved.
Primary Energy Plus House
Despite its sophisticated architecture, its use as an event venue and its high standards of comfort, the Futurium is a primary-energy-plus building. This is made possible by the compact design, passive measures tailored to the use (especially with regard to the building envelope), strictly demand-oriented air and energy supply, and highly efficient building services. In addition to the extensive use of solar thermal energy and photovoltaics, only highly efficient combined heat and power and cooling systems are used to provide energy. Thanks to latent cooling and electricity storage systems, demand and generation peaks can be balanced out. As a result, the installation of peak-load boilers could be completely dispensed with. In the annual balance, the building provides a primary energy surplus of 8 kWh/sqm or 99,000 kWh/a (in relation to the demand according to EnEV).
Architecture
Richter Musikowski, Berlin/Germany
Planning time
2013 − 2015 (excl. initial architectural competitions)
Construction time
2015 − 2017
Services by Werner Sobek
Facade engineering (WP 1 −3)
General sustainability consultancy and ecological construction consultancy
Thermal building physics, including services in accordance with EnEV/energy concept
Thermal and daylight simulation
Life-Cycle Assessment, life-cycle costs, recycling concept
BNB certification
Building and room acoustics (WP 1 − 5)
GFA
13,955 m²
Client
Federal Institute for Real Estate, Berlin/Germany
Photography
Dacian Groza, Berlin/Germany
Schnepp Renou, Berlin/Germany
Awards
DGNB Award 'Sustainable Building' − Nomination 2018