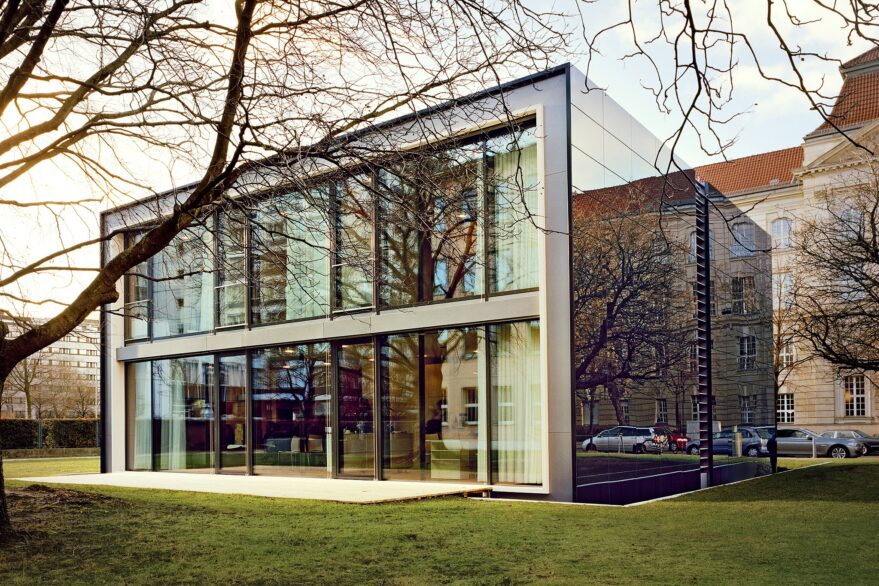 Pioneer of Sustainable Building in Germany
Werner Sobek's design, however, not only shows that it is possible to build houses in the future for widespread use that generate far more regenerative energy than they need and are thus able to fully supply the residents' e-mobiles with energy as well.
F87 also proves that in the future, buildings can be designed and constructed in such a way that after their use, it is possible to recycle all building materials without any problems.  This makes F87 a pioneer of sustainable construction in Germany.
Glass Supply Core as a Link
A glass supply core functions as an energetic and architectural link between the mobile and immobile living areas of the residents. While a compact building adjoins on the garden side, an open, uninsulated frame construction serves as a large showcase for the public on the street side. The focus of the innovation lies in the interface of energy flows and storage capacities between the PlusEnergyHouse and the mobility of the future. The concept of the horizontal tripartition into the actual living area, the energy core and the showcase embodies this approach.
Thanks to the optimal spatial orientation and the integration of photovoltaics and solar thermal energy, F87 produces more energy than is needed to supply the building and the vehicles. This surplus energy is fed into the public grid.
Architecture
Werner Sobek, Stuttgart/Germany
Planning time
2010 − 2011
Construction time
2011
Services by Werner Sobek
Design
General planning
Object planning
Facade engineering
Structural engineering
Sustainability & recycling concept
MEP engineering

GFA
245 m²
Client
Federal Government of Transport, Building
and Urban Affairs, Berlin/Germany

Photography
Matthias Koslik, Berlin/Germany
Jens Ahner, Berlin/Germany