EXPO Shades – Glass Fibre Membranes
Werner Sobek has developed a trio of innovative shading systems for Expo 2020 Dubai. These systems link together all of the national pavilions on the exhibition site. The structures cover a total area of approx. 96,000 m².
All three systems use the same basic concept of a large-span steel frame construction as the foundation of their designs. can even tolerate high deformations with no difficulty whatsoever. This allows the spacious World Expo grounds to be shaded with efficient, large-span constructions that make a significant contribution to visitors' comfort without compromising their views of the surrounding landscape. The overall design has been CEEQUAL certified with an 'Excellent' rating, the highest possible award.
The first of the shading systems developed by Werner Sobek consists of non-prestressed glass fibre rovings that are devoid of trusses or any visible transverse supports. These membranes can be moved when exposed to excessive wind loads. The design offers shade during the day and functions as a projection surface at night. Overall, 228 large-format membrane elements with a total area of 56,000 m² have been installed at the Expo 2020 site.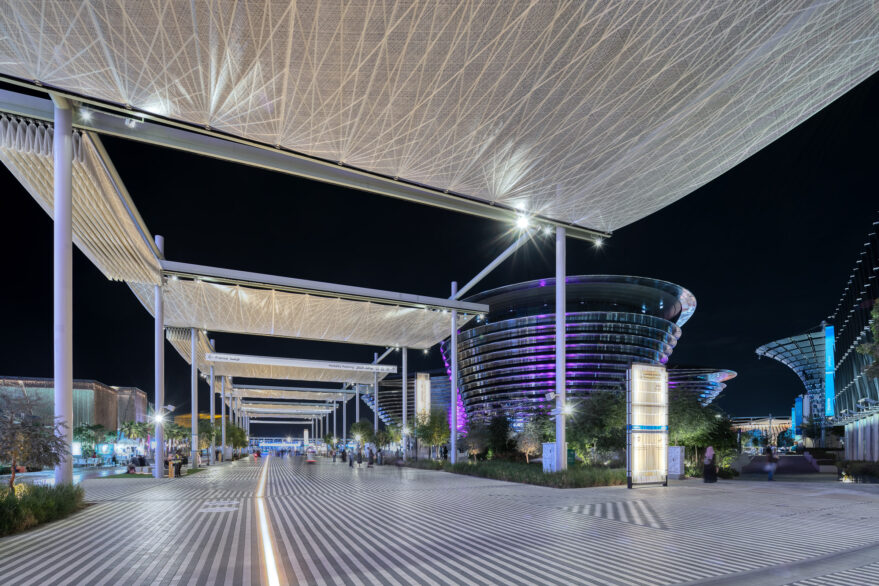 Architecture
Werner Sobek, Stuttgart/Germany
Planning time
2017 – 2018
Construction time
2018 – 2020
Services by Werner Sobek
General planning
Design
Structural engineering
MEP engineering
Sustainability concept
(renewable energy, microclimate optimization, recyclable materials)
CEEQUAL certification
Site supervision
GFA
96,000 m²
Client
CH2M Mace Joint Venture on behalf of Expo 2020 Dubai/UAE
Photography
Roland Halbe, Stuttgart/Germany
Nikolay Kazakov, Karlsruhe/Germany
Andreas Keller, Altdorf/Germany