adidas ARENA, World of Sports
The adidas ARENA in Herzogenaurach is as a striking administrative building with a sculptural character. An important aspect in the implementation was the consideration of the steel consumption and the constructability of the demanding supporting structure.
Floating Structure through Hydraulic Lifting Assembly
The three upper storeys were elevated about 12.5 m above the ground via V-shaped supports. In order to ensure the most flexible use possible, a Vierendeel construction with columns in a grid of 8.10 m was chosen for the upper floors. Diagonal braces or bracing walls were completely omitted. The ground floor is an independent reinforced concrete construction consisting of columns, walls and ceiling. It is completely decoupled from the upper storeys by means of a green and walkable covering. The V-columns of the upper floors penetrate the ceiling of the ground floor, but without forming a static connection with it.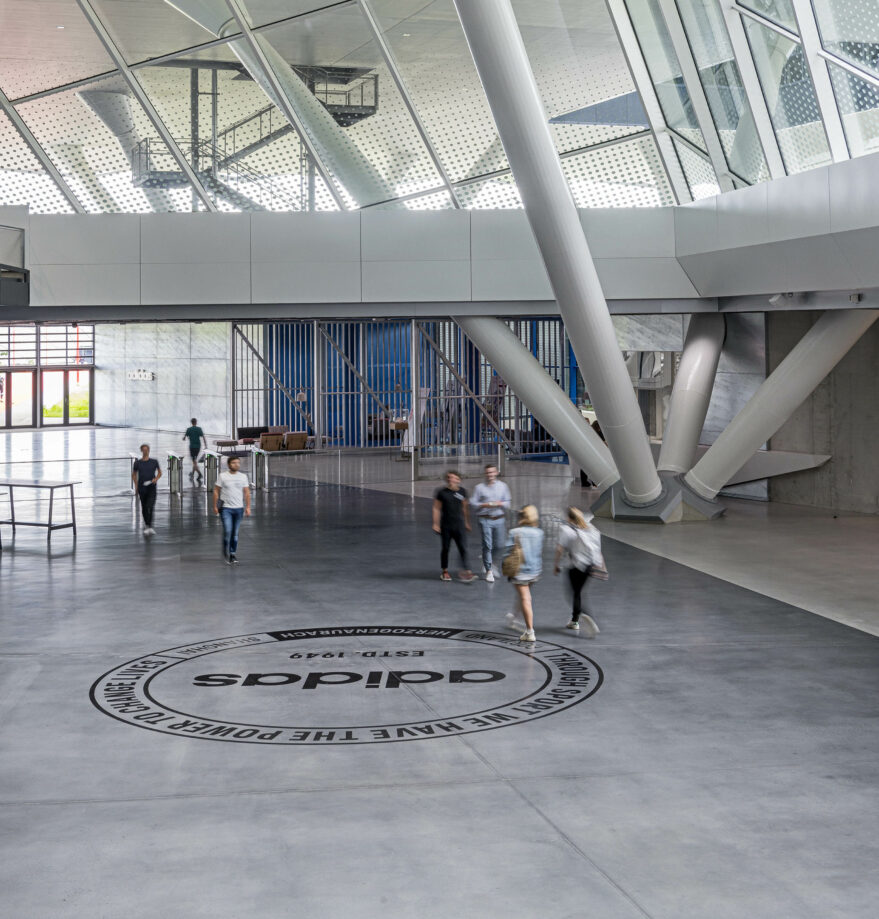 Above the entrance area, the rest of the building was elevated 12.5 m above ground. The steel construction of the first two upper floors was first pre-assembled on approx. 2 m high auxiliary supports. Afterwards, 76 hydraulic presses lifted the 12,500-tonne construction 0.5 m in height in several lifting operations lasting 12 minutes each. Afterwards, 67 V-shaped composite supports were mounted underneath the structure, on which the three-storey building now rests. The hydraulic lifting assembly was used for the first time in Germany and is one of the special highlights of the project.
A time-lapse film shows how the impressive process took place.
In 2020, the adidas ARENA received the German Steel Construction Award, and the Balthasar Neumann Award the following year. The International Architecture Awards also followed in 2021.
Architecture
Behnisch Architekten, Stuttgart/Germany
Planning time
2014 − 2015
Construction time
2016 − 2019
Services by Werner Sobek
Structural engineering (WP 1 − 4 acc. to HOAI, preparation of key details)
Random site supervision
GFA
51,915 m²
Client
adidas AG, Herzogenaurach/Germany

Awards
German Steel Construction Engineering Award 2019
European Steel Design Award 2019
German Steel Design Award 2019
Balthasar Neumann Prize − Recognition 2019
International Architecture Awards 2021
Photography
David Matthiessen, Stuttgart/Germany