SFEP – Shanghai Financial Exchange Plaza
The Shanghai Financial Exchange Plaza (SFEP) skyscraper ensemble consists of three towers with heights of 180, 200 and 230 metres. The towers are connected at a height of 40 m by a three-storey bridge construction. Each tower has two central, continuous building cores.
Three-Storey Bridge Construction Connects the Towers
The floor plans of the individual storeys vary greatly in some cases. The ceilings are not continuous on some floors and the building cores are therefore not connected to each other over large areas. This posed a particular challenge for the structural design. The high-rise ensemble stands on a subterranean base construction with four underground floors.
The project comprises many innovative element facades and special constructions, including several highly transparent cable facades of over one hundred metres in height as well as steel-glass constructions in the roof area of the towers.
The Shanghai Financial Exchange Plaza (SFEP) has been nominated for the DAM (Deutsches Architekturmuseum) International Highrise Award in September 2022.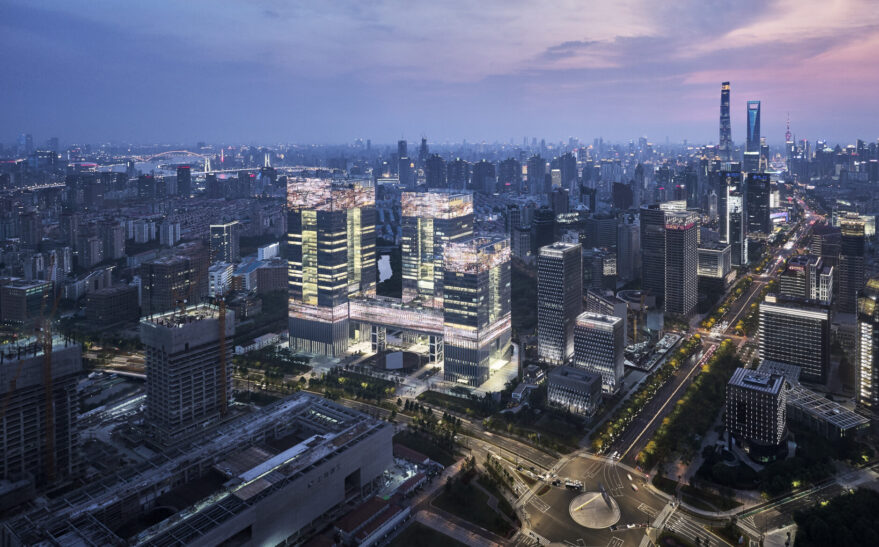 Architecture
Jahn Architecture Inc., Chicago/USA
Planning time
2010 − 2012
Construction time
2013 − 2017
Services by Werner Sobek

Structural engineering
Facade engineering
(Concept design, schematic design, design development; tendering + construction documents and construction administration [consultancy])
GFA
494,000 m²
Photography
Qingyan Zhu, Shanghai/China