Ship Lifting Installation Niederfinow
After 14 years of construction, the ship lift in Niederfinow was officially inaugurated on 4 October 2022. Werner Sobek was responsible for the structural engineering of the 520 million euro project.
3,500 tonnes, 37 metres, 30 minutes
The vertical lift overcomes a height of about 37 metres – and does so in about 30 minutes of lock passage. The actual lifting process only takes about 3 minutes. In future, the new ship lift will also enable larger cargo ships, such as the "Great Rhine Ship" with a length of 110 metres and a width of 11.4 metres and a total weight of 3,500 tonnes, to navigate the Oder-Havel Waterway.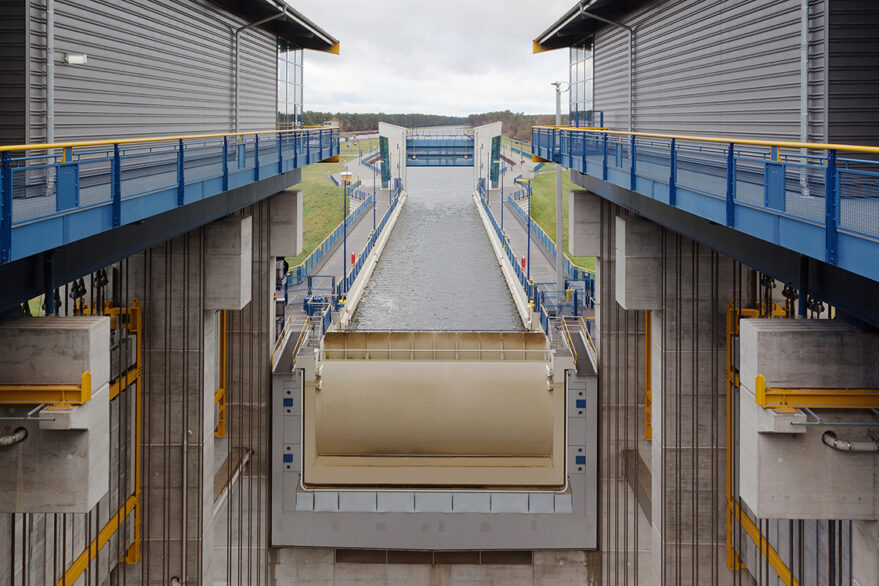 The structure made of reinforced concrete and steel has a length of approx. 130 m, a width of 50 m and a height of 60 m. The connection to the upper outer harbour is made via a 65 m long steel canal bridge.
In 1997, the decision was made to build a new, larger ship's hoist at Niederfinow Nord. In autumn 2006, earthworks began between the current lift and the lock stairs.
Important from an Economic and ecological Point of View
The new lift will significantly improve the connection of the Berlin area with an efficient waterway to Szczecin (Poland) and the wider Baltic Sea region. This is important not only for economic reasons, but also for ecological ones. The cargo of a modern inland vessel can transport the equivalent of 150 lorry loads. On the road, this volume would not only correspond to a convoy of vehicles of 2.5 kilometres, but also generate considerably more emissions.