The four-storey R128 building designed by Werner Sobek is located on a steep site on the edge of the Stuttgart basin. It was designed as a completely recyclable, zero-heating-energy building with zero emissions during operation — as a pilot project for the built environment of tomorrow.
The World's First Triple Zero Building
The fully glazed building has high-quality triple glazing with a k-value of 0.4. It has a modular design and is not only easy to assemble and dismantle due to its plug-and-screw assembly, but is also fully recyclable. The interior temperature is controlled by a newly developed climate concept.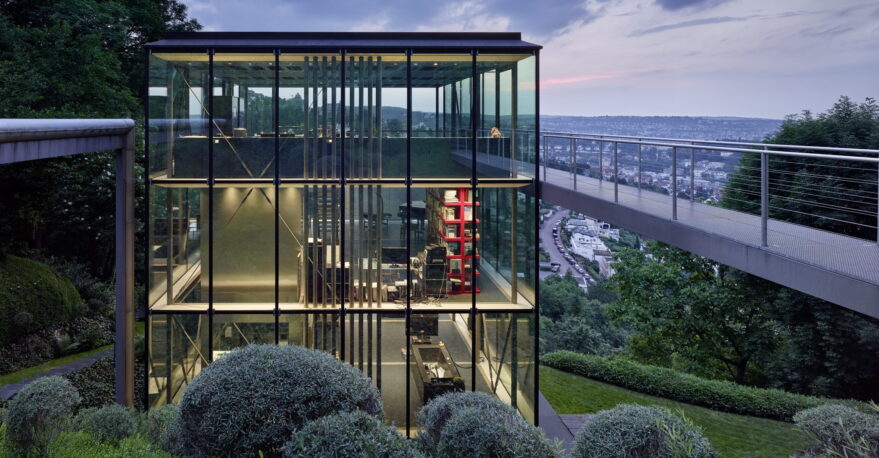 The exposed steel supporting structure is an essential design and structuring element of R128. In addition, this construction contributes significantly to the short construction time and the complete recyclability of the building.
Architecture
Werner Sobek, Stuttgart/Germany
Planning time
1998 − 1999
Construction time
1999 − 2000
Services by Werner Sobek
Design
Object planning
Structural engineering
Facade engineering
GFA
250 m²
Client
Ursula and Werner Sobek, Stuttgart/Germany
Photography
Zooey Braun, Stuttgart/Germany
Roland Halbe, Stuttgart/Germany
Awards
"Exemplary Building Stuttgart 1997 − 2001" 2002
MSH-Award for Architecture 2002
German Steel Construction Award 2002
SEAOI Excellence in Structural Engineering Award − Best Small Structure 2002
Award for Good Buildings of the BDA Baden-Württemberg 2002
Hugo Häring Award 2003