The Weißenhofsiedlung on Stuttgart's Killesberg, built within a few months in 1927, was tantamount to a revolution in building: the designs of various world-famous architects showed how we could build and live in the future.
Parts of the Weißenhofsiedlung were destroyed during the war and rebuilt – except for a plot of land in Bruckmannweg, which has lain fallow since 1945. Here, for a period of five years, stood an equally future-oriented building that demonstrated how innovative materials, constructions and technologies can sustainably improve our built environment.
Modular, Forward-Looking, Neighbourhood-Oriented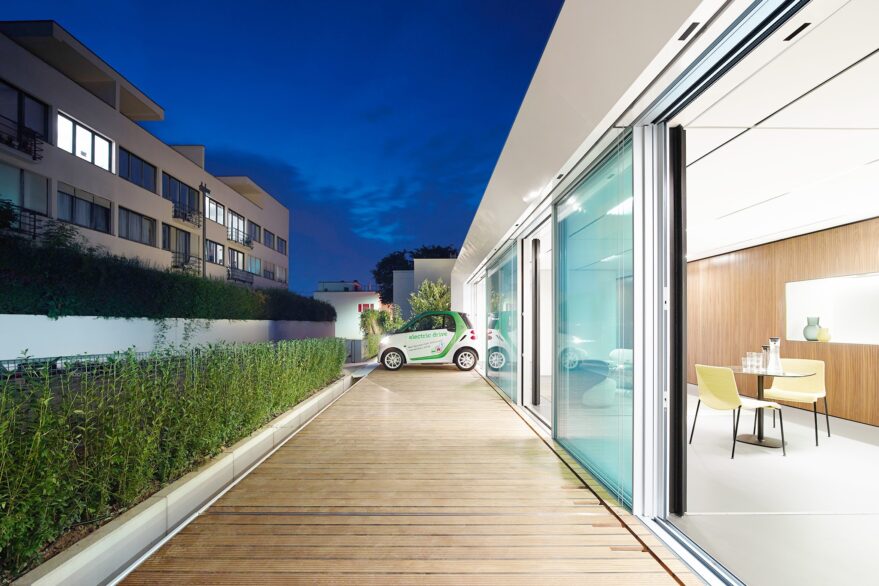 The research project – called "B10" for short after its location at Bruckmannweg 10 – is the world's first active house. Thanks to a sophisticated energy concept and a self-learning building control system, it generates twice its energy needs itself. And it does so from sustainable sources.
In August 2019, the experimental building was lifted by crane onto a heavy transporter within one day and reassembled at its production site in Hohenstein-Oberstetten.
More information about "Green Technologies" in our podcast
Architecture
Werner Sobek, Stuttgart/Germany
Planning time
2013 − 2014
Construction time
2014
Services by Werner Sobek
Design
General planning
Interface design
Sustainability consultancy
Energy concept
Thermal simulation
GFA
86 m²
Client
E-Lab Projekt gGmbH, Stuttgart/Germany
Photography
Zooey Braun, Stuttgart/Germany
Awards
Mies van der Rohe Award 2014 − Nomination
materialPREIS
iF Design Award 2016
German Design Award 2017 − Nomination
Iconic Awards 2016 − Best of Best
Heinze ArchitektenAWARD 2016 − Shortlist