The sustainable urban quarter P18 based on Werner Sobek's Active House modules is being built in Stuttgart-Bad Cannstatt. With a total of six buildings for the staff of the Bad Cannstatt Clinic, it is the largest wooden house quarter planned to date in Germany by a single investor. According to the client's wishes, the project is to become a milestone in terms of sustainable and serial construction.
Milestone in Sustainable Serial Construction
The buildings will be constructed in prefabricated timber modules, the underground car park will be solid. When planning the buildings, special attention was paid to energy performance and systems engineering – the goal is to develop an entire plus-energy quarter. PVT collectors generate not only electricity but also heat, which serves as a source for heat pumps. This ensures a particularly high efficiency of the systems. By means of small exhaust air heat pumps, heated exhaust air is also fed into the primary circuit of the main heat pumps. This achieves heat recovery.
Requirements of a KfW Efficiency House 40+ Met
The building envelope itself has passive house quality. In addition to particularly low heat transfer coefficients, this also means a design with few thermal bridges. Thanks to these measures, the buildings meet the requirements of a KfW Efficiency House 40+. In the annual balance, more energy is generated from sustainable sources than is needed.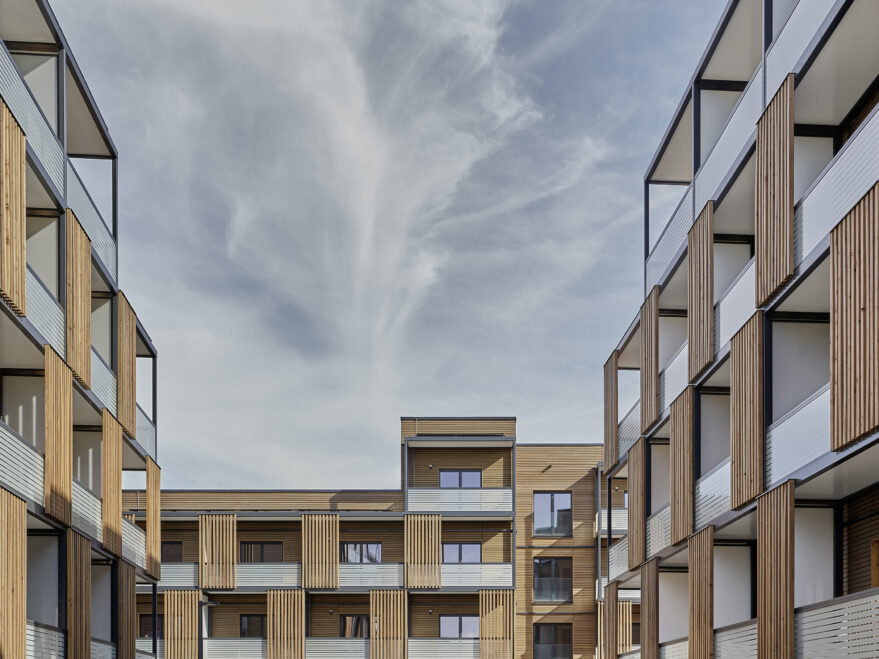 Architecture
AH Aktiv-Haus GmbH, Stuttgart/Germany
Werner Sobek, Stuttgart/Germany
Planning time
2020 – 2021
Construction time
2021 – 2023
Services by Werner Sobek
Project and object planning
Structural engineering
Construction supervision
BIM coordination
Energy concept
Technical building services planning
Thermal and sound insulation
Consulting with regard to KfW funding
BIM specialist planning
(Demand Planning; Visualisation; Coordination of Disciplines; Design Reviews and QA/QC; Analysis, simulation and verification; Derivation of drawings and documents; Quantity take off and cost analysis/estimation)
GFA
24,478 m²
Client
Stuttgarter Wohnungs- und Städtebaugesellschaft mbH, Stuttgart/Germany

Photography
Zooey Braun, Stuttgart/Germany