School Campus Adorno-Gymnasium
For the transitional quarter of the Adorno school campus in Frankfurt am Main planned by gmp Architekten, Werner Sobek was responsible for the structural engineering and building physics of the timber construction. The temporary modular building was realised between 2018 and 2019.
The design envisages a school building with a floor area of approximately 121 x 65 m on the sports grounds of the Phillip Holzmann School in the north of Frankfurt's Westend district. The rectangular ground plan with its two inner courtyards is divided towards the west into Gymnasium Nied and Holzhausen Primary School, which is located to the east of the structure. In the north of the three-storey building complex are the respective entrance areas and a jointly used kitchen with adjoining dining rooms.
Timber Construction with a High Degree of Prefabrication Enables Reconstruction
In order to speed up completion and to ensure the desired deconstructability as well as the possibility of rebuilding elsewhere, a timber construction with a high degree of prefabrication was chosen as a refined shell. The foundation of the building is realised with a steel grid on a screw pile foundation, which as displacement piles, which can also be deconstructed, safely transfer the building loads into the building ground.
When choosing the supporting structure, care was taken to ensure that as many elements as possible have a load-bearing function and that a global, even distribution of the vertical and horizontal loads can be achieved.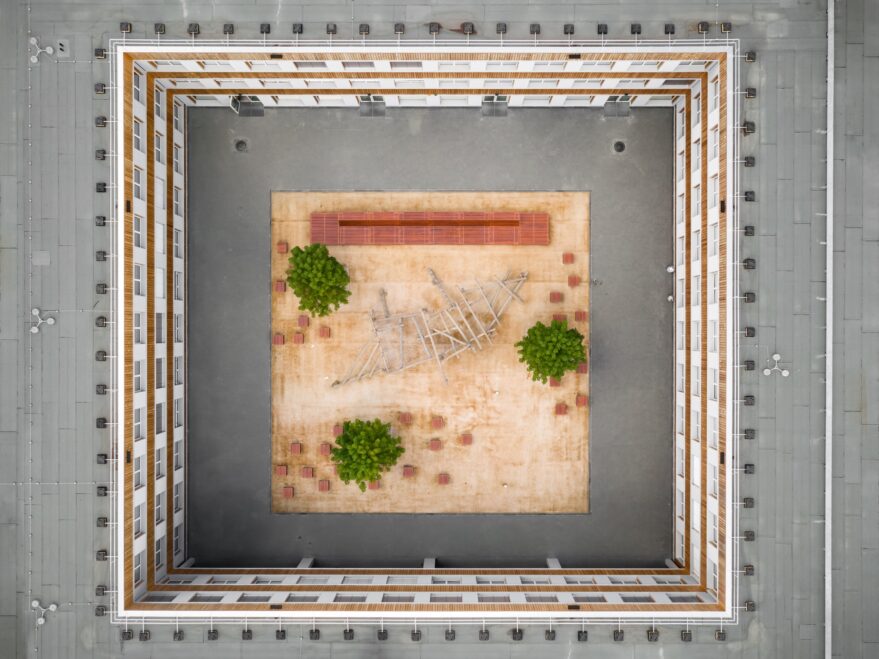 Architecture
gmp International GmbH, Berlin/Germany
Planning time
2017
Construction time
2018 − 2019
Services by Werner Sobek
Structural engineering (WP 1 − 6, 8)
Building physics (WP 1 − 6)
GFA
20,000 m²
Client
Office for Building and Real Estate,
Frankfurt am Main/Germany
Photography
Marcus Bredt, Berlin/Germany